Prospect Watch Edition 2: Relief Pitcher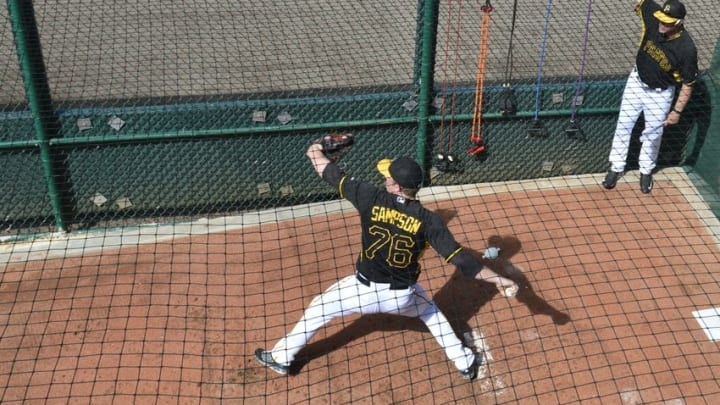 Mandatory Credit: Tommy Gilligan-USA TODAY Sports /
Leading up to the season we will be doing several editions on prospects we think you should keep an eye on this season.  I will not necessarily call them breakout prospects, but rather prospects who we expect to take a step forward this season.
We define breakout as prospects you have never heard of and burst onto the scene.  This will mainly be about players who I am intrigued by and think should be noticed this season.  I have developed a sophisticated prospect rating scale for identifying potential breakout prospects.  The rating scale takes into account nearly all stats, physical attributes, and personal scouting reports.
For this edition I will be looking at one relief prospect in the Bucs' system.  The relief area is a spot where prospects are often overlooked.  Why? Relief prospects are not noticed because many people believe quality relievers are easy to find.  
This can be true, it seems like a majority of relievers came up through the system as starters, but they eventually falter and end up being moved to the bullpen.  However, people do not notice when teams develop relievers because average fans could not care less about a guy who throws just one inning per appearance being called up from AAA.   
As we have learned over the last few years, having a strong bullpen can make a huge impact on a team's system.  We have seen the Pirates turn out some good relievers through their system recently in Tony Watson, Justin Wilson, and Jared Hughes.
Mandatory Credit: David Kohl-USA TODAY Sports /
The relief prospect I will talk about is Sam Street. Street is a 6'3", 215lb right-handed pitcher who spent all of 2015 with the West Virginia Power.  The current 23-year-old was a 16th round pick in 2014 out of Texas Pan-America.   Street has been very strong in his first two years in the organization, even with a fastball that only sits in the high 80's.  His ERA over the last two years is a 1.83 in 113 IP.  Other numbers that stick out for him are his WHIP at 1.00, and his batting average against is a strong .225.  
These are all strong numbers, but he also has some even better ones that suggest his ability to get outs.  He leaves runners on-base at a 77.9% clip and his strikeout to walk ratio is an unbelievable 5.47/1.  Even though he has posted such strong strikeout numbers, he also gets a lot of ground balls which fits right into the Pirate's mold. The stat that shows this is his ground out to air out ratio.  The average numbers for this over the last five years is 1.10 ground outs before recording an air out.  Streets' career numbers so far are 1.68 GO/AO.  What is even better is last year his number jumped from 1.38 (2014) to 1.80 in 2015.
  In my prospect rating formula Street projects as an impact big league reliever.  What this means is that he ranked on the top end of my scale.  Street posses strong size that should allow him to stay strong throughout a season.  I expect Street to start out in High-A and finish the year in AA.  
He profiles a lot like Jared Hughes. He does not have overpowering stuff, but can produce ground-balls and roll
Mandatory Credit: Denny Medley-USA TODAY Sports /
double plays in jams.  I view this as his floor.  His ceiling would be Astros reliever Luke Gregerson.  In Gregerson's career he has put together a 50% ground-ball rate with a career 2.79ERA.  Due to these strong numbers, the Astros rewarded Gregerson with a 3 years 18.5 million dollar contract and he tallied up 30 saves for them last year.  
I view Street's ceiling to Gregerson.  Neither have overpowering stuff (fastballs around 90mph), but they locate their pitches, keep the ball down in the zone, and have a lot of sinking movement on their pitches.  If Street develops to be as good as either of these pitchers it would be a success in my eyes.  
So throughout this year be sure to look up Sam Street from time to time to see if he is still posting strong relief numbers, if he is I think you could see him warming up at PNC by summer 2017.