Pittsburgh Pirates MLB Draft: #68 Overall Pick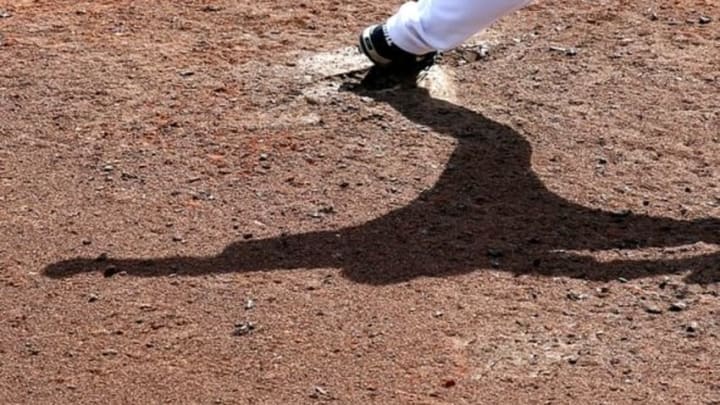 Mandatory Credit: Butch Dill-USA TODAY Sports /
Tonight is the MLB draft the Pittsburgh Pirates are picking at #22 and #41 in the first round, and they are picking at #68 overall with their second round pick.
With the #68 overall pick and their second round pick, the Pittsburgh Pirates and Neal Huntington selected Travis MacGregor from East Lake High School, Florida.  He is committed to Clemson University, but signability is not a concern.  He was not ranked in MLB Pipelines top 200 player list, Baseball America had him at #186.
MacGregor is 6'3", 180 pounds, and is a right-handed prep pitcher.  MacGregor is a classic Pirate pick.  He is a tall, projectable right-handed pitcher.  He has a three pitch mix in a four-seam fastball, a curve-ball, and a change-up.  His fastball is his best pitch, which makes sense as most prep pitchers get by with their low 90s fastball.  His fastball sits 90-92 and has hit 94 miles per hour.  However, he shows an advanced curve-ball and change-up for a high school pitcher.  With showing advanced secondary pitches, the Pirates are getting a young pitcher who seems to have good pitchability compared to other players his age.
What is interesting about this pick is it seems the Pirates reached on him.  Now at this point most of the top talent is off the board, and any of the top players left will be tough to negotiate with.  The Pirates have always done a good job of finding talented prep pitchers in the later rounds, and most likely see something that scouting sites do not.  As I mentioned earlier, his pitches are advanced for being 18 years of age and the Pirates may like this over a more raw, projectable pitcher. Overall, MacGregor is a solid pick, he is not much different than any other prep player.  He has the stuff to project as a big league starter, now it is up to him and the Pirates to mold him into one over the next few seasons.  A decent player comparison for this young arm would be Alex Cobb from Tampa Bay.  They have similar size and pitches.  He obviously has a ways to go, but his early repertoire and size are comparable to Cobb at that age.
More from Rum Bunter
The Pirates have "reached" on all three of their picks in terms of MLB Pipeline and Baseball America's big boards.  With that they should be able to save money on all three of their draft picks. If that is the case the Pittsburgh Pirates and Neal Huntington could be saving up to take a splash pick tomorrow.
Related Story: Second First Round Pick: Lodolo
Speaking of tomorrow rounds three through ten will be completed.  The Pirates will make selections in all of those rounds.  Do not over look day two of the draft.  The Pirates in earlier years have drafted top pitching prospects Tyler Glasnow and Nick Kingham in the fifth and fourth round of their respective draft.  There is still plenty of talent left on the board and day two will surely see more interesting prospects come into the Pirate's organization.