Pittsburgh Pirates International News: Bonus for Gavilan, More Signings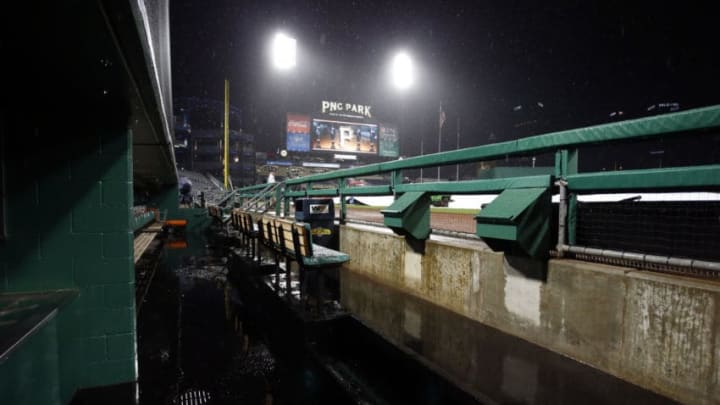 (Photo by Justin K. Aller/Getty Images) /
The Pittsburgh Pirates got off to a quick start signing multiple International free agents yesterday.  Here are some more signings.
Yesterday it was reported by Baseball America that the Pittsburgh Pirates handed out a $500,000 signing bonus.  This bonus was awarded to a 16-year-old outfielder from the Dominican Republic by the name of Sergio Campana.  However, the Pittsburgh Pirates were just getting started and actually handed out an even bigger bonus.
While Campana looks like a prototypical athletic center fielder, Osvaldo Gavilan looks to be more of a power corner outfield bat.  Gavilan received a bonus of $700,000, the largest bonus the team has given out thus far, and likely the biggest one this signing period.  While Baseball America nor MLB Pipeline have him ranked in their top 50, he obviously is viewed by the Pittsburgh Pirates as one of the higher ceiling players available. Baseball America predicted Gavilan to sign with the Bucs a few weeks ago:
""Osvaldo Gavilan, a lefthanded outfielder from the Dominican Republic, looks like another target, with a mid-to-high six-figure deal possible.""
Yesterday it was also reported that the Pittsburgh Pirates signed two other pitchers. Both pitchers came from the Venezuelan ranks.  The first being Adrian Mendez, a lefty pitcher.  Mendez received a bonus of $355,000.  To go along with Mendez, the team gave right-handed pitcher Antonio Gonzalez a bonus that still has yet to be announced.  This likely means that it was relatively small in comparison to the others. Baseball America also predicted Mendez to sign with the Pirates:
""Venezuelan lefthander Adrian Mendez is another player with ties to the Pirates.""
As of this morning, MLB Pipeline has the official list of notable signings by the Pittsburgh Pirates at seven, however, they are missing Gonzalez, who Baseball America has on their list.  So all in all, the team has eight new prospects at least.  This includes another player who received a big bonus in Luis Tejada, a Dominican infielder.  He is listed by JDB Baseball to be 5'11" and 165 pounds.  They also have him playing shortstop and he bats from the right side.  Here is a video of him running, hitting, and fielding.  He looks to have a smooth swing that generates line drive power.  The Pittsburgh Pirates must think he has the upside to be an above-average hitter as they gave him a bonus of $500,000.
Tejada was not the only shortstop to receive a large bonus, as the Pittsburgh Pirates also gave Daniel Lopez, a Dominican shortstop, a bonus of $400,000.  There is not much information available on him.  The last two signings to talk about are two more infielders in Juan Jerez and Orlando Chivilli, both are Dominican born infielders.  Jerez, a shortstop, received a bonus of $380,000 while Chivilli got $350,000.
Next: International News: Outfielder Sergio Campana Signs
Now, this is not to say that the team has not signed more players.  Normally sites like Baseball America and MLB Pipeline only cover signings of players who received large bonuses.  Meanwhile, John Dreker over at Pirates Prospects is reporting that the team has signed up to 18 players thus far.  Pirates Prospects is always on top of the International signings. Check back for updates as more information becomes available or if there are new big bonus signings to discuss. The team has a total International Bonus Pool of $5.5 million.
*All Signings and Bonus Figures are courtesy of Baseball America and MLB Pipeline, click the links for signings for all 32 Major League Teams.