MLB Draft: 2016 Top High School Prep Arms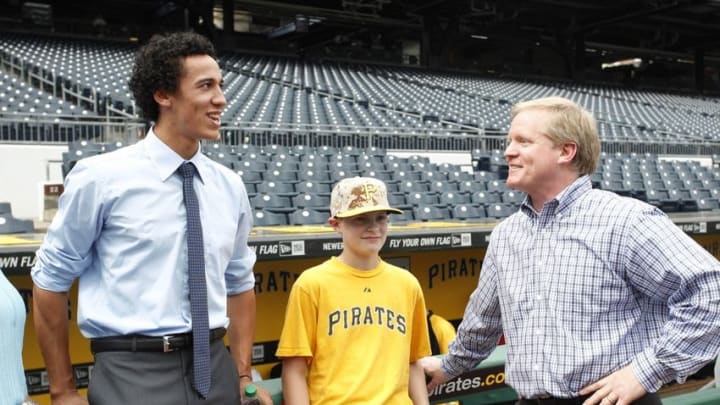 Mandatory Credit: Charles LeClaire-USA TODAY Sports /
Mandatory Credit: Troy Taormina-USA TODAY Sports /
Riley Pint is the second best high school arm available, and like Groome, there are great odds he won't be around when the Pittsburgh Pirates make their selection at number 22. Pint is a 6'4" and 195 pound right handed arm from St. Thomas Aquinas High School in Kansas, and he has committed to pitch at LSU next season.
Pint has the most explosive fastball, which is already sitting mid 90s and has touched upwards near 100 miles per hour. At only 195 pounds, Pint still has room to grow and fill out, which will allow his velocity to increase, and sit in the upper 90s consistently.
His curveball has a sharp break, and appears to most likely be a slider. But as it currently sits, his curve is in the low 80 mile per hour range, but as he matures and fills out, his hook – which may turn into a slider – should increase in velocity and sit in the mid, to maybe even upper, 80s. His changeup also currently sits in the mid-80s, and has a chance to be an above average third pitch. Pint comes from a high three quarters arm slot.
I see two possible results with Pint, and with no in between: due to his full max effort and at times inconsistent delivery, I see a Wade Davis type future – a pitcher who struggles as a starter, throws hard, and then succeeds as one of the game's premier arms in the back end of the bullpen – or possibly a top right handed starter in the game. I think he will be one or the other, and will succeed greatly in the MLB, it just won't be for the Pirates.
Next: My favorite high school pitcher in the draft