The Time Has Come To Bench Andrew McCutchen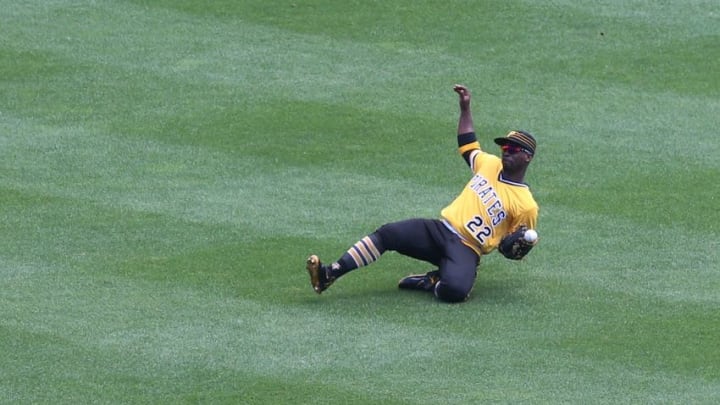 Mandatory Credit: Charles LeClaire-USA TODAY Sports /
A day that many Pittsburgh Pirates fans thought would never come has come, it is time for the Pirates to bench centerfielder Andrew McCutchen.
Ever since debuting in the Major Leagues in June of 2009, Andrew McCutchen has been one of the best players in all of Major League Baseball. Andrew McCutchen has always brought an elite mixture of hitting, power, on-base ability, speed, and a strong glove. All of this led to Andrew McCutchen becoming the face of the franchise.
Not only has Andrew McCutchen become the face of the Pittsburgh Pirates over the course of the last eight seasons, he has also become one of the most well-known players in all of baseball. McCutchen is a five time All-Star, a four time MVP finalist, three time Silver Slugger Award winner, he won a Gold Glove in 2012, and he won the National League MVP Award in 2013. It appeared that Andrew McCutchen was well on his way to having a Hall of Fame career with the Pittsburgh Pirates.
Even though his defense had begun to decline in recent years, McCutchen's offense showed no signs of slowing down. However, that has changed this season. Right now Andrew McCutchen is a below league average hitter and the Pittsburgh Pirates have better options. It is shocking that this has happened, but it is time to bench Andrew McCutchen.
I realize there is about a zero percent chance of Andrew McCutchen being benched. Not only is McCutchen the face of the franchise, but he is also extremely popular in the clubhouse and the leader of the team. So despite his struggles, benching McCutchen might cause turmoil within the Pirate clubhouse.
The reason Andrew McCutchen should be benched runs deeper than just his struggles at the plate and in the field. Also contributing to the need to bench McCutchen is that, currently, the Pirates have better options. Not only should Starling Marte be playing in center field instead of left field, but Matt Joyce should be in right field every time the Pirates face a right-handed pitcher.
This season Andrew McCutchen has a .241/.314/.405/.719 slash line, to go with a .164 ISO, .309 wOBA, and a 94 wRC+. All of these numbers are, by far, career worsts for McCutchen. Also, McCutchen has a career high 24.6 percent strikeout rate. As a result, McCutchen finds himself in the top ten in the National League in strike outs.
Andrew McCutchen has also been terrible in the field this season. McCutchen has negative nine defensive runs saved and a -10.2 UZR/150 this season. This has resulted in McCutchen havign a -3.8 dWAR so far in 2016.
Adding to McCutchen's issues is that he has struggled against both right and left handed pitching this season. Against right-handed pitching Andrew McCutchen is slashing .246/.319/.406/.725 with a .314 wOBA, 97 wRC+, and an ISO of .160. McCutchen also has a 25.5 percent strikeout rate and just an 8.3 percent walk rate against right-handed pitching.
Believe it or not, McCutchen has been even worse against left-handed pitching. This is especially surprising, and concerning, because throughout his career McCutchen had always tortured left-handed pitching. However, in 2016 that has not been the case at all.
So far this season Andrew McCutchen is slashing just .225/.295/.400/.695 against left-handed pitching. His wOBA is .289, his wRC+ is 81, and his ISO is .175. Furthermore, he has just a 9.1 percent walk rate against left-handed pitching to go with a 21.6 percent strikeout rate. So even though he is walking more and striking out less against left-handed pitching than right-handed pitching, the overall results have been worse.
Against right-handed pitching the Pirates should be starting Gregory Polanco in left field, Starling Marte in center field, and Matt Joyce (.411 wOBA, 163 wRC+ vs RHP) in right field. Things then change a bit against left-handed pitching. While Polanco and Marte are fine where they are, against left-handed pitching Sean Rodriguez (.407 wOBA, 160 wRC+ vs LHP) should be in right field.
Next: Prospects The Pirates Should Shop
Right now Andrew McCutchen is doing nothing but hurting the Pittsburgh Pirates. He is doing it with his offense, as well as with his defense. The Pirates would be a better defensive team with Starling Marte in center field, and a better offensive team with Matt Joyce and Sean Rodriguez playing over McCutchen. Sadly, it is time to make the change.
In 2016 Andrew McCutchen has been both a below league average hitter, as well as fielder. McCutchen has been a complete mess in 2016, and is struggling against both right-handed and left-handed pitching. With the Pittsburgh Pirates battling for a postseason position they need to field their best possible lineup, and right now that does not include Andrew McCutchen.