Pittsburgh Pirates: Minor League Report Travis MacGregor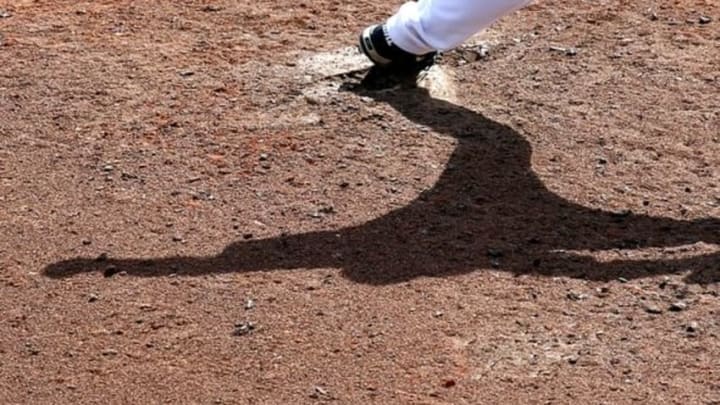 Mandatory Credit: Butch Dill-USA TODAY Sports /
When the Pittsburgh Pirates drafted Travis MacGregor in the second round fan were interested to see why.  Many felt that he was a reach for the second round, but MacGregor is proving other wise.
With the #68 overall pick and their second round pick, the Pittsburgh Pirates and selected Travis MacGregor from East Lake High School, Florida.  MacGregor was committed to Clemson University, but the Pirates were able to sign him for 900,000 dollars. MacGregor has a three pitch mix that includes a fastball that sits 91-94, a plus curve-ball, and an average change-up.
The former Clemson commit was sent to the Pittsburgh Pirates Gulf Coast League affiliate soon after signing.
He made his first start on July 4th.  He was very impressive starting the game and pitching 1.1 innings.  Although he was limited to only four outs of pitching, he made the most of it by recording all his outs as strikeouts.  He carried his success over his next two starts as his earned run average remained at zero until his fourth start.  His worst start of the year came on August 2nd.  He pitched 3.2 innings and gave up five earned runs on six hits.
Even with that tough start MacGregor is having a really nice start to his career as a member of the Pittsburgh Pirates organization.  He is impressing, for being a prep righty who many felt was a second round reach.  On the year MacGregor owns a 3.33 earned run average in 27 innings.  He is doing a great job of limiting walks so far by giving free passes only 2.7 times per nine innings pitched.  In general, he has done a great job of limiting base runners. posting a solid WHIP of 1.25.  
More from Rum Bunter
One area of concern is that he is only striking out 4.6 batters per nine innings.  Obviously that is a pretty low average, but he also is developing still.  As he grows into his frame, and learns how to truly pitch using his stuff, he will start to see his strikeout rate grow.  While he is not recording a ton of strikeouts he is doing a great job of limiting walks and producing ground-balls.  MacGregor is producing a 1.58 ground-out to air-out ratio.  This means that he gets 1.58 ground-ball outs before recording a fly ball out.  With that, 1.58 is considered above average.  This could suggest why his strikeout numbers are down.  The Pittsburgh Pirates stress to their young pitchers learning how to pitch to contact, this could be MacGregor's philosophy right now.
What has made MacGregor have a lot of early success compared to expectations?
Well first off, he was considered a late riser entering the draft.  If the draft would have been two weeks later he likely would have been ranked as a second round play.  Essentially he is way more talented than people thought.  Second off, he is doing a great job of commanding his pitches.  Often you hear how young, prep pitchers trouble with control.  MacGregor does not seem to have this issues.  Lastly, it is that he seems to be pitching to contact.  The 18-year-old righty is doing a great job of producing ground balls and not trying to over power hitters and record strike outs.  This could show a sign of his maturity and understanding of how to be successful when you do not have over powering stuff.
Related Story: Concerns about Feliz
It is early in his career and he has a long way to go before reaching the majors.  However, it is important to see how the younger prospects are performing.  The Pittsburgh Pirates have graduated Chad Kuhl, Jameson Taillon, and Tyler Glasnow. Going forward fans will be looking for the next crop of upside arms coming. MacGregor has the high pick attached to him, and so far is proving to be a solid choice.