Andrew McCutchen to be Shopped this Off-Season?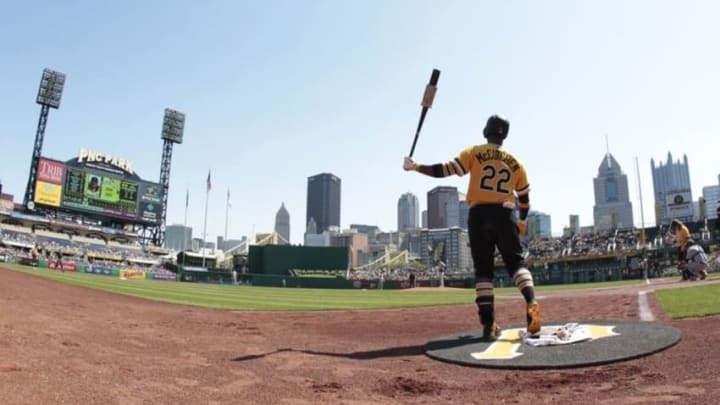 Mandatory Credit: Charles LeClaire-USA TODAY Sports /
All season as Andrew McCutchen has struggled.  There has been rumors and talk from fans and the media that the Pittsburgh Pirates could look to deal McCutchen this off-season.  Well in the news today it was broke that this could be the case.
Everyone knows Andrew McCutchen has struggled this year, and everybody should expect him to bounce back next season.  Will he return to the .315 plus hitter we have seen in the past? Most likely not, but still at just 30 years of age, it is safe to say that he can get back to hitting .290 plus with 20 plus home run power, and a solid on-base percentage.  By no means should his career be even considered on the down side.  He is 30 years of age, a lot of players still have MVP seasons at this age, some have not even received their first contract by 30.  Every team in the league will call on him if he is available, that is no doubt, and this very well could be the case.
According to Rob Biertempfel of the Pittsburgh Tribune Review:
""Now there is a growing sense among industry insiders that the team will try to deal McCutchen before he reaches free agency in either one or two years. General manager Neal Huntington likely will quietly shop the five-time All-Star during the offseason, if only to gauge the level of interest."There are people I've talked to who are convinced the Pirates are going to trade McCutchen this winter," MLB Network Radio analyst Jim Duquette said.""
This is a piece of Biertempfel's article, for the full article click here
I am not going to sit here and talk about if the Pittsburgh Pirates should trade Andrew McCutchen.  This is a difficult question to answer, and simply can be argued from many different angles.  The fact of that matter is that there is a growing belief around the league that the Bucs could shop him. This was a season long question that is now being answered.
More from Rum Bunter
Teams that could be interested?  All thirty.  What can you get for him?  Who knows.  However, he is still Andrew McCutchen.  Teams will always pay for names.  This is proven, how many times do we see the New York Yankees over pay aging players, or just simply big names? Now this is different, teams will have to pay in prospects or players instead of money.  However, the point is the same, teams will over pay in prospects to get the former MVP.
Opposing Teams
These teams will look to acquire him with the belief that he will rebound to his all-star form.   This really will set up an interesting off-season.  As stated earlier, every team will call on Cutch.  However, the Pittsburgh Pirates are in a good spot to.  They could also make a fairly reasonable bet on Andrew McCutchen rebounding next season.  Neal Huntington could look to hang on to him all next year, make another playoff push, then move him in the off-season.  They could hope that he rebounds, then move him at the deadline if they are not exactly in the hunt at that point.  Or the Bucs could simply move him this off-season if the market is there and they get a great offer.
Next: Frazier's Defense Haunts Him
With that being said the Pirates and Neal Huntington are in a great spot because they do not have to trade him, and only need to accept an offer that truly blows them away.  Either way, the Pittsburgh Pirates are in a good spot heading into the off-season in regards to Cutch.  It will be a long off-season with rumors swirling.  If he is to be moved it likely occur at the Winter Meetings.  Until then, make sure to check back on all things Andrew McCutchen and Pittsburgh Pirates.
Also, if you have any thoughts share below!