Pittsburgh Pirates: Projections for Arbitration Players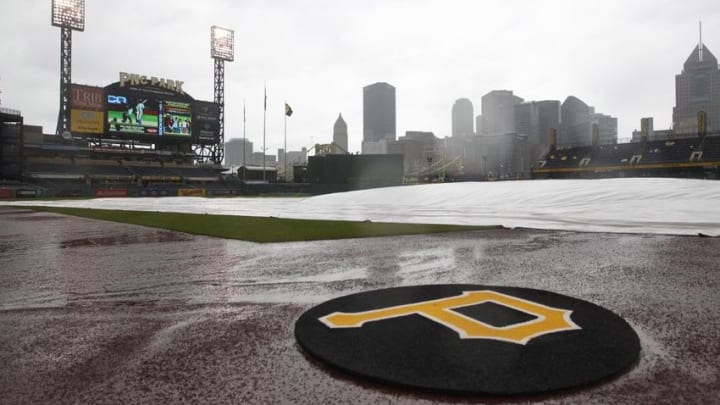 Mandatory Credit: Charles LeClaire-USA TODAY Sports /
The Pittsburgh Pirates have eight players who will be arbitration eligible this off-season.  This means that they will be receiving natural raises this off-season due to years of experience.
Major League Baseball Trade Rumors (MLBTR) does a great job every year of predicting many things in the off-season.  They always put out their projections for every team's arbitration eligible players, and they are typically close in their estimates.  They use a big, overall formula, along with many other rules when producing the final numbers.  Here is what they use for the base of predicting arbitration and how they came up with the Pittsburgh Pirates numbers:
""Hitters are typically evaluated using batting average, home runs, runs batted in, stolen bases and plate appearances. There are some positional adjustments, but typically the added defensive value of a shortstop relative to a first baseman is not as important in arbitration hearings as it is on the free agent market. Hitters also can receive larger arbitration awards if they have unique accomplishments, such as winning an MVP award. Pitchers typically are evaluated using innings pitched and earned run average. Starting pitchers are rewarded for wins, and relievers are rewarded for saves and holds. Unique accomplishments, such as Cy Young Awards, matter for pitchers as well." Matt Schwartz of MLBTRFull Article Click Here"
As said earlier, there is more that goes into the model.  If you have the time click the link above and give the whole model a read.  With that, it's obvious that the base of predicting any players worth is going to be based on how good of a year, and career, they have had. With that, here is MLBTR's predictions for the Pittsburgh Pirates arbitration eligible players:
"Pirates (8)
We have seen the Pittsburgh Pirates make roster decisions in the past due to arbitration raises.  Most notable was last off-season, when the Pittsburgh Pirates traded Neil Walker and non tendered Pedro Alvarez.  Both were in the last year of team control and projected to get significant raises over their previous season.  The Pittsburgh Pirates take both things into consideration.  They look at the amount players are going to earn, but are more concerned about the number of years of control a player has left.  With that, there is a good chance that the Pittsburgh Pirates will look to trade Jeff Locke, and if they cannot, they likely will designate him for assignment.
Next: LeBlanc Arbitration Breakdown
The Other Three
The other three players who are in their last year of control are Tony Watson, Juan Nicasio, and Wade LeBlanc.  LeBlanc and Nicasio are most likely locks to be on the team next year.  LeBlanc is a cheap option who earned a roster spot by performing in his time here.  Nicasio proved to be very effective out of the bullpen, gives a lot of flexibility to the pen, and will be relatively cheap.  Nicasio signed a one year, three million dollar deal last winter.  He is projected to get a raise of about 1.6 million dollars to 4.6 million for the 2017.  That should not be an issue for an effective reliever.
Lastly is Tony Watson.  Watson struggled this year compared to his previous years.  MLBTR is projecting him to receive a significant raise from 3.45 to 5.9 million dollars.  If the Pittsburgh Pirates believe that Watson is starting to ware out, then they could look to move him.  There should be plenty of interest in a proven, late inning relief pitcher.  Also, once again, Watson is due to make a significant amount, but specifically in his last year of control.  This typically suggests that Neal Huntington will at-least gauge interest in the reliever.
More from Rum Bunter
Arbitration can be tricky even for organizations
The Pittsburgh Pirates have done a good job of avoiding arbitration with some players over the last few years by giving them contract extensions.  Players like Starling Marte and Josh Harrison would have been eligible this season. Instead, they have locked in contracts.  Many are upset with Josh Harrison's performance since receiving his extension.  He is set to make seven and a half million dollars in 2017 which may be over his arbitration value.  That is the risk you run when handing out extensions.  However, Marte is also due to make five million dollars next year, and he likely would be earning more than that.  Arbitration is a tricky concept in baseball.  With that it seems as though that the Pittsburgh Pirates do not have any significant players to worry about getting large raises this off-season.