How The Pittsburgh Pirates Can Improve Their Run Prevention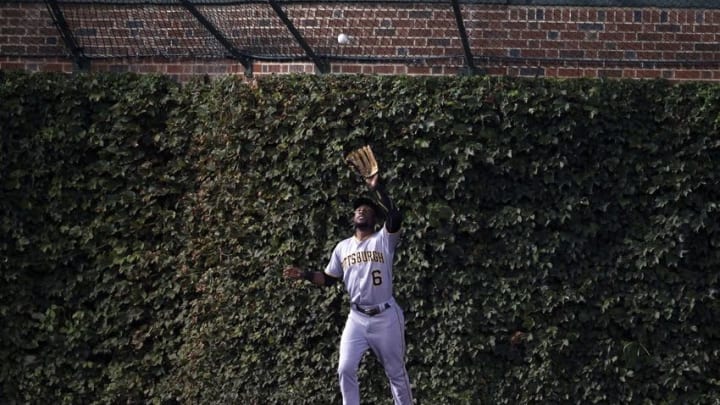 Aug 29, 2016; Chicago, IL, USA; Pittsburgh Pirates left fielder Starling Marte (6) makes a catch in the warning track during the first inning against the Chicago Cubs at Wrigley Field. Mandatory Credit: Caylor Arnold-USA TODAY Sports /
Pittsburgh Pirates GM Neal Huntington has said one of the team's goals this offseason is to improve run prevention, how can they do this?
One of the biggest reasons the 2015 Pittsburgh Pirates won 98 games was run prevention. In 2015 the Pirates allowed just 596 runs which was the third fewest in all of Major League Baseball. However, in 2016 the allowed 758 runs which was the 22nd most in the Majors.
According to Travis Sawchik of the Pittsburgh Tribune Review the Pirates will focus on run prevention this offseason. There are many different ways for a baseball team to improve their run prevention. So, how can the Pittsburgh Pirates improve their run prevention in 2017?
The most obvious way is improved pitching. As the offseason begins Gerrit Cole, Jameson Taillon, and Chad Kuhl are locks for the 2017 Pirate rotation. However, questions run rapid after these three starters. Additionally, having Kuhl as your third best starting pitcher is not the best idea.
More from Rum Bunter
Neal Huntington has previously stated that another one of his goals this offseason is to add to the starting rotation. In order to do this the Pirates will, most likely, have to go the trade route. The free agent market is very thin and due to this the prices for free agent starting pitchers will be through the roof.
In the trade market Neal Huntinton needs to target starting pitchers that are ground ball pitchers. During recent seasons the Pittsburgh Pirates have made a living with ground ball pitchers. Therefore, I would expect Huntington to target ground ball pitchers.
In the 2016 season the Pirates' ground ball rate was 46.9 percent. This 46.9 percent was a decrease from the 50.9 percent ground ball rate the team had in 2015. However, it still ranked third in the Majors.
Something that goes hand in hand with a ground ball pitching staff is a strong infield defense. The Pirates have a well above average defensive second baseman in Josh Harrison, but the rest of the infield defense is, to say the least, messy.
A big step in the right direction would be to get Jung Ho Kang back on track defensively. After being responsible for four defensive runs saved, committing just five errors, and posting a 3.6 UZR/150 at third base in 2015, Kang regressed immensely in 2016. In the 2016 season Kang was responsible for -2 defensive runs saved, he committed 16 errors, and his UZR/150 dropped to -4.6.
Hopefully Kang regains his 2015 form in 2017. It is possible that a combination of rust and his shoulder injury caused a lot of Kang's defensive miscues in 2017. From a run prevention stand point, the Pirates need Kang to play defense the way he did in 2015 when the 2017 season gets here.
Next: Three Reasons For Optimism
First base is going to be a defensive struggle for the Pirates. There is no way around that. Neither Josh Bell nor John Jaso are strong defensive players at first base. However, the Pirates can live with it due to the offense those two hitters, especially Bell, will provide.
This leads to an added emphasis on shortstop defense. Unfortunately for the Pirates, Jordy Mercer's shortstop defense has progressively gotten worse the past two seasons. And this is alarming.
While I like Mercer and think he is a nice bench player to have, it would behoove the Pirates to look for an upgrade at shortstop this offseason. The fact the Pirates have discussed Jung Ho Kang possibly playing shortstop again in 2017 tells me they are willing to go in a different direction at the position. If they were to do that though, I would like to see them go with a plus defender at the position.
The Pittsburgh Pirates offense will be very good in 2017. Due to this, they can afford to concentrate on defense at shortstop. And this is something I would like to see them do this offseason to improve run prevention.
Finally, there is the outfield defense. First off, the Pirates played their outfielders in too shallow during the 2016 season. Neal Huntington has even said as much. So this needs to change in 2017.
Secondly, the outfielders need shifted around. Last season Andrew McCutchen was the worst defensive center fielder in all of baseball. He was responsible for -27 defensive runs saved and that is simply unacceptable. The Pirates need to move Gregory Polanco to left field, Starling Marte to center field, and Andrew McCutchen to right field in 2017. This would greatly improve the Pirates' outfield defense.
There are different ways the Pittsburgh Pirates can improve their run prevention for the 2017 season. Improved pitching, a concentration on ground balls, and better defense are three of the biggest ways. Hopefully, Neal Huntington is able to make it happen.