Andrew McCutchen a Target for the Seattle Mariners?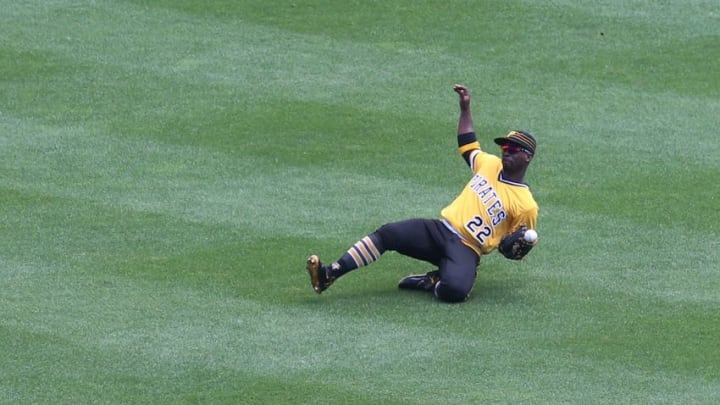 Mandatory Credit: Charles LeClaire-USA TODAY Sports /
As many know there are rumors swirling that the Pittsburgh Pirates are going to listen on trade offers for Andrew McCutchen.  Yesterday we wrote about the Yankees being interested, today is another team.
According to Ryan Duvault of inquisitr.com that Seattle Mariners plan on making a play for Andrew McCutchen this off-season.  He mostly talks about how the Mariners are looking to upgrade their current outfield and with good reason.  They have a defensive stud in center field in Leonys Martin.  However, Martin on the offensive side of things is below average, sporting a career .252 batting average wand a meager .671 OPS.
Even with a down year, Cutch's numbers dwindle Martins.  Now you can argue that in a pitcher's ballpark like Safeco you need a strong defensive center-fielder.  With that the Mariners could use Andrew McCutchen as their left-fielder.  For the last 45 games the Mariners let Guillermo Heredia get most of the reps in left-field.  He did not provide much.  He batted .250 with a .664 OPS.  With that he did get on base at a nice clip of .349, but he seems better as a fourth outfielder.
Mariners' future left-fielder?
Andrew McCutchen would provide them with way more offense from left field and should fit better defensively as a left-fielder than center fielder.  The Mariners are also taking a different approach.  They want speed in the outfield and line drive hitters.  Their park is to big for fly ball hitters as they often stay in the yard.  Cutch will provide good speed in the outfield and on the base paths.  Also his line drive approach should play well with their new philosophy.  Cutch rarely hits booming home runs, they are typically squared up line drives that just get out.  The Mariners will like him hitting doubles and rather than flying out in the big ball park.
More from Rum Bunter
What could the Pittsburgh Pirates expect back from the Mariners in this scenario?  Ryan Devault does not hint at any players that would be in trade negotiations.  However, we can speculate here at Rum Bunter.  The first two names that come to mind are two of their current starting pitchers.  It has been reported numerous times that the Pittsburgh Pirates want to add at-least two starting pitchers  this offseason.  Why not get at-least one of those in a deal for your former MVP.
Two Young Starters
The Bucs would have every right to ask for left-handed pitcher James Paxton or former top prospect Taijuan Walker.  Paxton would make more sense as he is a left-handed pitcher who could slot right in the middle of the right-handed heavy Pittsburgh Pirates rotation.  The one main issue with Paxton is he is very injury prone. The 27-year-old has not made more than 20 starts in a season in his four-year career.  However, in his career he owns a 3.43 earned run average.
Taijuan Walker on the other hand was considered one of the top prospects in baseball entering the 2013 season.  MLB.com actually had him ranked ahead of Jameson Taillon. In fact, Huntington tried to acquire Walker for Garrett Jones in the 2012-2013 off-season. However, the hype has not matched the results thus far in his career.  He has made 62 starts over the last three seasons and owns a 4.18 earned run average.  Walker has the make-up and pure stuff you like to see in a future ace, but has had issues with commanding his pitches.
Related Story: Yanks interested in Cutch
Paxton/Walker or Bust
If the Pittsburgh Pirates cannot pry one of the young, controllable starters off the Mariners then they should look elsewhere.  Entering the 2016 season the Mariner's system was ranked 28th in the league according to Baseball America.  This is not a system that you want to be pulling from when trading a former MVP.  However, if they can get one of the young controllable starters then it could be well worth dealing with the Jerry Dipoto and the Seattle Mariners.  That is if the Seattle Mariners actually are considering making a run at Andrew McCutchen, these are rumors after all.