Pittsburgh Pirates: Friday is the Non-Tender Deadline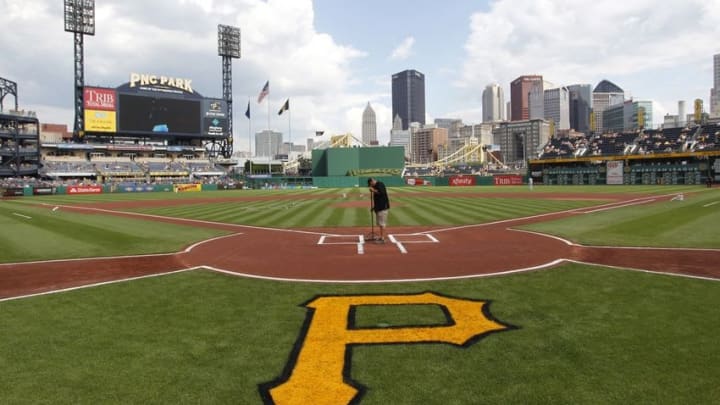 Mandatory Credit: Charles LeClaire-USA TODAY Sports /
Editorial: As the MLB and the MLBPA continue to work towards an agreement on a new CBA, the off-season is still moving along for the Pittsburgh Pirates.  If the two sides reach an agreement than the next important date is this Friday, December 4th, the non-tender deadline.
The Pittsburgh Pirates have eight players up for arbitration.  As of this Friday the Pittsburgh Pirates will have to make decisions on all eight of these players for next season.  They can either retain them by offering them a contract for next season or choosing arbitration or they can non-tender them.  For those of you who do not know, non-tendering in baseball is essentially releasing a player who is under his entry MLB contract.  The outside the box idea would be to work a trade for a player they are thinking about non-tendering and at-least getting something for him.  Last year the Pittsburgh Pirates tried to do this with Pedro Alvarez, but were not able to find any takers.  The main issue when doing this is opposing teams may not want to trade an asset for a player the Pirates are going to release into free agency.
Who are the Pittsburgh Pirates eight player that will in the Pittsburgh Pirates headlines by Friday's deadline? Here they are and their projected salaries based on MLBTR's projections:
There are a couple things to hash out before diving into each player.  First, these are projections that the MLBTR has put together based on the player's numbers in 2016, career averages, and 2017 projections.  Now last year we saw the Pittsburgh Pirates avoid arbitration with numerous players including Mark Melancon.  What this means is they reached an agreement on the player's 2016 salary without going to arbitration.  Neal Huntington is likely working with many of these players on doing the same.  Also, the Pittsburgh Pirates could look to extend some of these players to buy out their arbitration years.  For instance, the Bucs could extend Jordy Mercer and avoid his next two years of arbitration.  The Bucs have done this in the past with extending Josh Harrison and others.
The Obvious Players to Tender
More from Rum Bunter
So who are the players that will be tendered for the 2017 season?  Obviously, Gerrit Cole will no doubt be tendered for the 2017 season.  Tony Watson will be tendered as well, but will remain a trade candidate as he enters his final year of control.  Juan Nicasio will also be tendered as he enters his final year of control.  He will be a cheaper option than Watson and could be used in many spots in the bullpen.  Last year we saw Nicasio used in a multi-inning pitcher, while that is possible, he could slide into a set-up role if Watson is dealt. Drew Hutchinson was part of the most controversial move of the 2016 season.  He will be given a shot to prove the organization right in 2017.  Obviously, Jordy Mercer will be back in 2017 as the team's starting shortstop.
The Not So Obvious
Now comes the more interesting players.  Jared Hughes has been a big part of the bullpen over the last few years.  With two more years of control and projected at a cheap rate of 2.5 million, Hughes will likely get tendered.  However, with his struggles in 2017 there is a chance he could be let go.  I think it is 75% tendered, 25% chance he gets let go.  Wade LeBlanc seemed nothing more than an inning eater pick up late last season.  However, LeBlanc impressed in his time in Black and Gold.  With a plethora of lefties LeBlanc seems to be the odd man out.  I expect him to be non-tendered, but could see him quickly resigned on a cheaper deal.
Next: Positional Recap First Base
The Most Interesting Decision
Lastly, is Jeffery Locke.  The most love/hate pitcher on the team for the last few years.  Locke has had games where he has looked great and others where he has been not so great.  He has been a decent back-end arm for the last few years and has more value being a lefty.  With that the Bucs have many internal candidates that provide more upside than Locke at this point.  Pitchers like Trevor Williams, Steven Brault, and Drew Hutchinson should be given chances at this point.  Plus those three prospects will be making league minimum while Locke is projected to earn 4.2 million dollars. With two years remaining, plenty of experience starting, and being left-handed, Locke could be a trade candidate before the deadline.  If he is not dealt, then he will likely be non-tendered.
The Pittsburgh Pirates will be active over the next few days.  They have some decisions to make mainly on players like Jared Hughes, Wade LeBlanc, and Jeff Locke. The other five players will be back next season without question.  A player like Tony Watson will be tendered even if the Bucs decide to deal him later.  The only hang up as of now will be if the League and MLBPA can reach an agreement by Thursday's deadline.  If not, then the deadline on Friday will not exist. If they do, expect a lot of roster moves across baseball.