Pittsburgh Pirates: MLBTR'S Three Remaining Needs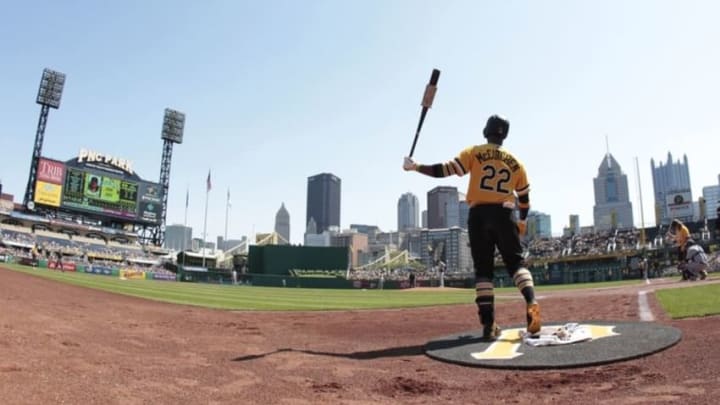 Mandatory Credit: Charles LeClaire-USA TODAY Sports /
Editorial: It is 2017, and the MLB off-season is about half way over already.  There projects to be plenty of action going forward as many players remain unsigned.  The Pittsburgh Pirates also are in a position to remain active as well.
The Pittsburgh Pirates still have a few holes left on their roster to fill this off-season.  However, there are three specific areas that need to be addressed before the start of spring training.  MLB Trade Rumors has put together a series of articles looking at remaining needs for each division.  Recently they put out their article for the NL Central.  Here is what Charlie Wilmoth of believes are the three remaining needs of the Pittsburgh Pirates:
"Consider continuing to add starting pitching. The Pirates made a big move to steady a wobbly rotation when they re-signed Ivan Nova late last month. Still, the team could use a bit more pitching help, as it currently figures to be heavily reliant on youngsters behind Gerrit Cole and Nova. The Pirates have been connected to White Sox star Jose Quintana, who certainly would be a big step forward. Beyond that, GM Neal Huntington has been outwardly noncommittal about the possibility of further additions, noting that he is open to bringing in more pitching but adding that "we like the group as is," via Bill Brink of the Pittsburgh Post-Gazette.Balance the bullpen. With the recent addition of Daniel Hudson to a group that already included Tony Watson, Felipe Rivero, Juan Nicasio, Antonio Bastardo, A.J. Schugel, Jared Hughes and others, the Pirates have what appears to be a decent group of relievers. That group, however, is heavily left-handed, with Watson, Rivero, Bastardo, Wade LeBlanc and Rule 5 pick Tyler Webb all pitching from the left side. Watson's name has come up in trade rumors this offseason, and either he or Bastardo look like reasonable candidates to be dealt, partially to get value from them but also partially to clear space for more right-handed relief help.Figure out whether Andrew McCutchen stays or goes. Following the collapse of trade negotiations with the Nationals, Huntington said the Pirates were likely to keep their star center fielder. Rumblings surrounding McCutchen have continued, albeit in more muted form, over the past several weeks, however. There's also the question of what position he'll play in 2017, as there have been various reports about the likelihood that the Pirates will move him to a corner after he posted poor defensive numbers in center in 2016.For Complete mlbtr.com NL Central Coverage Click Here"
Analysis on One:
1) These all seem very logical.  First and foremost the Pittsburgh Pirates need to add another starting pitcher.  Yes, they have some younger options. However, if the organization plans on retaining Andrew McCutchen through 2017 then they need to make one more aggressive playoff push. Rather than depend on unknowns like Steven Brault and Trevor Williams, the Bucs need to acquire a solidified MLB starter.  Specifically the Pirates should be targeting a lefty starter, but it is not integral.    Quintana would be great obviously especially being a lefty, but even a player like Alex Cobb would fit the bill.
More from Rum Bunter
Analysis on Two:
2) There will be a trade out of the bullpen.  Right now the Pittsburgh Pirates bullpen is lefty heavy.  Also the Bucs traditionally spend about 18 million dollars in their bullpen. Right now the Bucs are projecting a bullpen cost of over 20 million.  The market for left-handed pitches is at an all-time high in terms of dollars given, the Bucs have plenty of low-cost lefty relievers they can deal.
Analysis on Three:
3) Neal Huntington said they will not trade McCutchen!". Wrong!  Huntington said a trade was unlikely going forward.  This was because the most aggressive and logical suitor, the Nationals, found themselves a different outfielder.  Still, teams like the Mets and the Blue Jays are calling on Cutch. There does not seem to be much serious conversation going on.  It seems that unless the Bucs are completely blown away by an offer, Andrew McCutchen will be a Bucco at the start of the  2017 season.
One team who had interest at the Winter Meetings was the L.A. Dodgers.  If the Dodgers strikeout on Brian Dozier, they could look to gain a right-handed bat at a different position in McCutchen. They do have a need for a righty outfielder. The Dodgers have the system to blow away the Pirates.  However, outside of the Dodgers there are not a lot of teams that would be aggressive enough to make the deal.
Conclusion
Plan on January being an active month across baseball.  There are still plenty of free agents available and many names on the trade block.  The Pittsburgh Pirates still have work to do as they need to add a fourth outfielder.  The Bucs also will be looking dump Josh Harrison's contract along with one of their relievers.  Spring Training is about two months away, but the MLB off-season still has a long way to go.