ESPN Ranks The Pittsburgh Pirates 13th In Power Rankings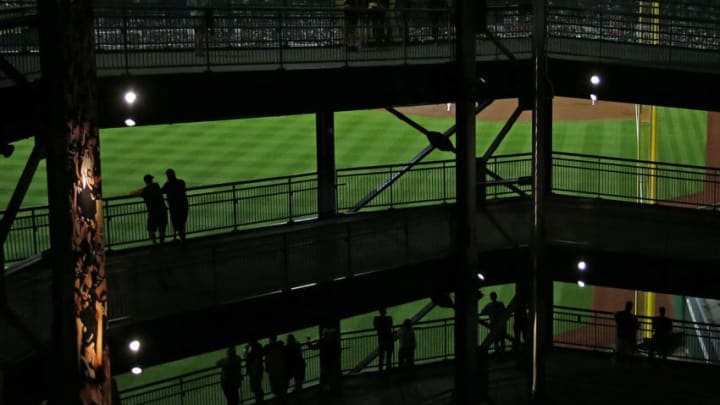 (Photo by Justin K. Aller/Getty Images) /
Schoenfield wrote this before any moves were made.  The Angels and Justin Upton signed a five-year deal, and teams exercised or declined options on players, including the Pirates making the obvious decisions on their three players.  These moves don't really move the needle, as the only moves that could have occurred between the power rankings and now are teams extending players and deciding on options.
The Pirates finished 2017 with a record of 75-87 and will have the tenth overall pick in the 2018 draft.  Schoenfield ranks the Pirates 13th in his rankings with this reasoning:
""It was a disappointing season for the Pirates, and they probably played above their talent to win 75 games. Starling Marte had the PED suspension and played just 77 games (and didn't hit as well when he returned), and Gregory Polanco was a huge letdown with a .251 average and just 11 home runs. They ended up with Andrew McCutchen back in center, where he remains a defensive liability. If Marte and Polanco bounce back and Josh Bell continues to improve, the offense could be pretty good (though Jung Ho Kang's visa issues remain, and there's no guarantee he'll be back). The biggest key, however, is better results from Gerrit Cole and Jameson Taillon and maybe a second-half call-up for Mitch Keller.""
This seems about right for a club who is an average team, who will only make the playoffs or get a high draft pick if everything goes right or everything goes wrong.  The easiest form of improvement is getting around 600 plate appearances from Starling Marte and Gregory Polanco, though they have only reached that number once (Polanco did have 587 plate appearances in 2016).  In 2017, Marte and Polanco produced a fWAR of 1.7, with it being 1.2 and 0.5 respectively.  Marte over his career has a 3.99 fWAR per 600 plate appearances and Polanco has a 1.62 fWAR per 600 plate appearances.  That's a 2.79 fWAR and 1.12 fWAR difference from their 2017 seasons, and that turns into a 3-4 win difference.
The team is also not going to be getting 17.1 innings of 12.46 RA9 ball from Antonio Bastardo and Joaquin Benoit, which should add an additional win just from the subtraction of those two.  That puts the Pirates anywhere from 4-6 wins (assuming the replacement for Bastardo and Benoit is worth roughly one win).
Next: 2017 Draft Recap: Rounds 8-10
Just getting Marte and Polanco 600 plate appearances and not having Benoit and Bastardo on the roster, the Pirates should be near 80 wins.  If Josh Bell continues to improve and if Gerrit Cole or Jameson Taillon improve slightly – two things Schoenfield mentions – the Pirates are a team that's about .500.  With no additional moves or any player really over performing, the Pirates would be an average team.  After a season in which almost every thing went wrong, the club finished only six games below .500.  It is reasonable to suspect the Pirates to be a near .500 team, with a couple of games above or below, and being 13th and in the middle of the pack in the power rankings is about correct.
*Numbers from fangraphs