Pittsburgh Pirates: Jim Duquette Predicts an Infield Signing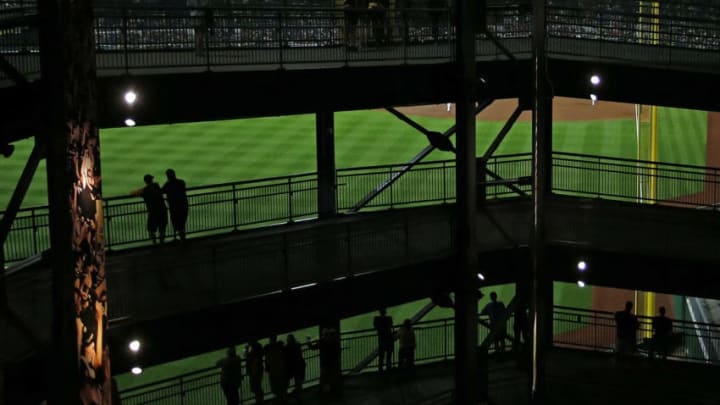 (Photo by Justin K. Aller/Getty Images) /
Rumor: Jim Duquette, a former General Manager of the New York Mets and current MLB.com writer, has predicted the Pittsburgh Pirates to sign a middle infielder this off-season.
The Pittsburgh Pirates are in need of adding some quality to players to their current lineup.  The Bucs have suffered back-to-back years of sub-.500 baseball, and quite frankly fans are starting to lose their passion for the team.  If the Pittsburgh Pirates can add a legitimate, proven MLB player to their roster, it may reinvigorate the fan base and help get the team back into playoff contention.  Former Mets General Manager Jim Duquette predicted landing spots for the top 25 free agents.  He is predicting that the Pittsburgh Pirates will make a headline-grabbing move.
When looking at the Pittsburgh Pirates, it is had to say where they need to upgrade in terms of their offense.  Their outfield, when healthy, has all the potential in the world. Josh Harrison has put up a few solid seasons at second base.  Meanwhile, first base seems to finally have been fixed.  Third base could be fixed if Jung Ho Kang is available next season, and they have a viable backup in David Freese.  Lastly, at catcher, the Buccos have Francisco Cervelli and their former top catching prospect Elias Diaz.  So this leaves shortstop, where Jordy Mercer has held the position down for the last four years.  Mercer does a nice job, but that is it. On a good bit of the teams, he would likely be a bench player.  This is where Duquette believes the Pittsburgh Pirates will make their improvement.
Zack Cozart to the Pittsburgh Pirates?
In his prediction article, Duquette predicts that the Pittsburgh Pirates will sign former Reds shortstop Zack Cozart.  Cozart ranks as the 14th best free agent on his list.  The former GM believes the Pittsburgh Pirates will sign him to deal that is around 3-4 years at around $12 million a year. This would be a rather large contract for the Pittsburgh Pirates to hand out, so do not hold your breath.  Only one player on the current roster makes more than that per season and it is Andrew McCutchen.
However, if the Bucs want to get back into contention, they will need to bump their payroll some.  If they give $12 million per season to one of the top free agent infielders, it should not be too much of an issue.  Also, the 32-year-old was not offered a Qualifying Offer, which would have definitely kept the Pirates out of his bidding.
Next: MLBTR Predicts an Outfield Signing
Duquette also notes that Cozart could also shift to third base.  This could help out if Kang is not granted his VISA for next season.  Why it also could make sense is that Jordy Mercer is entering his final season of team control.  When players are in their final year of arbitration, Neal Huntington often shops them around. So Mercer very well could be on the move this off-season as well.  He also notes the Reds, Rays, Royals, and Padres as possible landing spots for Cozart.  If those are the teams that show interest, the Pittsburgh Pirates can, and should, be right in the mix financially. Check back later for more analysis on the potential signing of Zack Cozart.