Luis Heredia officially released by the Pittsburgh Pirates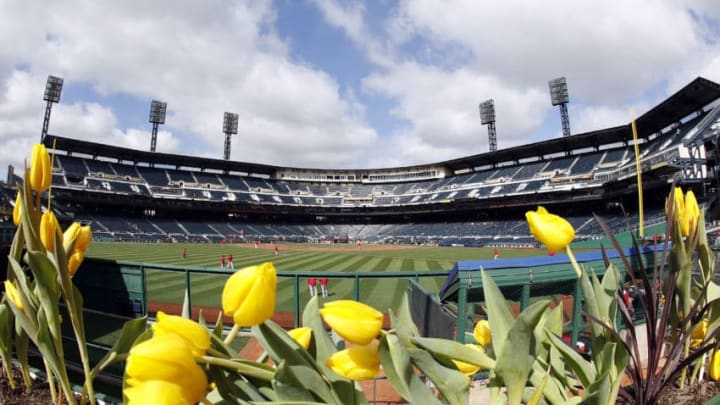 (Photo by Justin K. Aller/Getty Images) /
Right-handed pitcher Luis Heredia was once one of the top pitching prospects in baseball. Now, he is simply one of the biggest busts ever for the Pittsburgh Pirates.
On the morning of August 19, 2010, the Pittsburgh Pirates made history. They signed 16-year-old right-handed pitcher Luis Heredia to a $2.6 million signing bonus. This was the largest signing bonus the Pirates had ever paid out to an international free agent.
To this day, that remains a record amount for the Bucs. At the time, however, it seemed like a bargain for the Mexican righty. When Heredia signed he was considered by many to be the best pitching prospect to ever come out of Mexico.
Despite being just 16 years of age when signed, Luis Here was already 6-foot-6 and 185 pounds. His fastball sat at 93 miles per hour, which is unusually high for someone of that age, and his slider was viewed as a wipeout pitch.
Luis Heredia made his debut as a top-100 prospect in 2011 when Baseball Prospectus had him as the 81st best prospect in baseball. He then climbed to 42nd in 2012, dropped to 53rd in 2013, and then fell out of the top-100 for good following the 2013 season.
Unfortunately for Luis Heredia and the Pirates, things did not pan out for the Mexican righty. This led to the Bucs officially releasing Heredia on Wednesday afternoon, making him a minor league free agent.
After struggling as a starting pitcher and showing up to Spring Training out of shape more than once, Heredia was moved to the bullpen in 2016. This came as Heredia was repeating High-A after spending three seasons at Low-A. The move to the bullpen, however, did not fix Heredia's biggest issue which was control issues.
Luis Heredia still averaged 5.13 BB/9 in 2016, then for Double-A Altoona in 2017 he averaged 5.33 BB/9. In his minor league career, Heredia averaged 4.39 BB/9.
In his last hooray in the Pirates' organization, Luis Heredia averaged 7.39 K/9, 5.33 BB/9, and 0.52 HR/9 in 52 1/3 innings pitched for the Curve this past season. He owned a 3.10 ERA, however, his 4.22 FIP and 4.46 xFIP indicate he did not pitch nearly as well as his ERA and that he was due for regression.
For his minor league career, Heredia posted a 4.41 FIP to go along with his insanely high walk rate. He also allowed 423 hits in 443 1/3 innings pitched, he plunked 31 batters, and he threw 39 wild pitches.
Next: Free agent target: Zack Cozart
No matter how highly touted a prospect might be, there are no slam dunks in baseball. Right-handed pitcher Luis Heredia is yet another example of this. Heredia will go down as one of the biggest busts in the history of the Pittsburgh Pirates.