Pirate prospect to watch in 2018: Brandon Waddell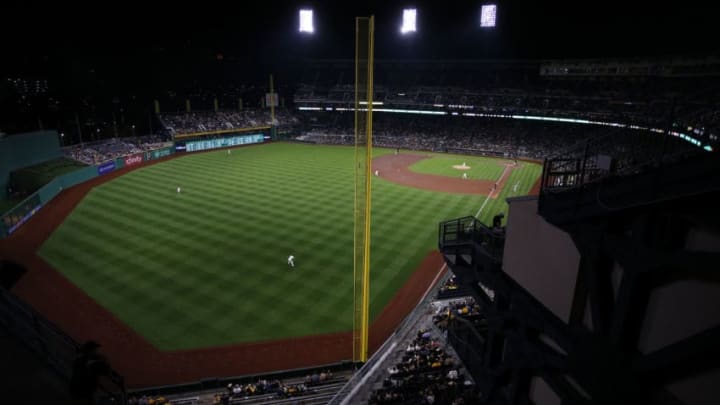 (Photo by Justin K. Aller/Getty Images) /
A former 5th round draft pick out of a powerhouse college program will be a Pirate prospect to watch in 2018
In the 5th round of the 2015 Major League Baseball June Amateur Draft, the Pittsburgh Pirates selected left-handed pitcher Brandon Waddell. Waddell was drafted out of one of the best college baseball programs in the country – the University of Virginia.
After battling injuries in 2017, Brandon Waddell finished the season making 17 starts. 15 of these 17 starts came at the Double-A level. As 2018 approaches Waddell will be pitching on the door of Triple-A and he is a Pirate prospect to watch in 2018.
During the 2017 season Brandon Waddell pitched 66 innings in 15 starts for the Double-A Altoona Curve. He allowed just 60 hits and three home runs but he struggled with control averaging 3.68 BB/9 while also hitting four batters.
Waddell averaged 7.64 K/9 for the Curve and generated groundballs at a 49.2 percent rate. All of this led to the 23-year-old lefty starter posting a 3.55 ERA and a 3.53 FIP for the Curve.
While working his way back from injury, Brandon Waddell pitched 12 innings combined between the Gulf Coast League and the Low-A West Virginia Black Bears. He allowed six hits, one home run, he walked three, and struck out 15 batters in these 12 innings pitched.
Waddell's 2017 season came after he logged 118 innings in 22 games (20 starts) for the Curve in 2016. He allowed just nine home runs in 2016 while also posting a strong 59.8 percent groundball rate. However, he struggled with control (4.65 BB/9, seven wild pitches, and seven batters hit) en route to posting a 4.12 ERA and a 4.49 FIP in 2016.
Brandon Waddell also came up huge for the Curve in the postseason. In Game 1 of the Eastern League Championship Series against the Trenton Thunder, Waddell pitched a gem that helped set the tone for a series that ended in a Curve sweep and their second league championship in franchise history. In this game Waddell allowed just five hits, he did not walk a batter, and he struck out six in six scoreless innings pitched.
This was not the first time Brandon Waddell pitched great when it matters most. In college, he pitched a complete game for the Virginia Cavaliers in Game 2 of the College World Series.
Waddell has deception in his delivery. This deception aides him in keeping hitters from getting too comfortable in the batter's box. To go with his fastball, Waddell also throws a changeup and a strong slider.
Moving forward the area he needs to improve most is his control. That, however, is not all that different from most young pitchers. And luckily for Waddell, Ray Searage is the master at helping pitchers refine their control.
Next: December 26th Twitter Q&A Answers
When talking about the next wave of Pirate pitching prospects people often talk about pitchers such as Clay Holmes, Mitch Keller, Nick Kingham, and Taylor Hearn, and for good reason. However, Waddell is often times forgotten and overlooked which he should not be. If not for injuries throwing off his 2017 season, Waddell would already be at the Triple-A level and be on the doorstep of the Major Leagues.
Brandon Waddell has the tools to be strong middle to back of the rotation starting pitcher in the Major Leagues. The fact he is a left-handed starting pitcher adds to his value and potential. He may start the 2018 season back with Double-A, but he will reach Triple-A sooner rather than later.
Brandon Waddell is certainly a Pirate prospect to watch in 2018.