Pittsburgh Pirates: Top 100 Prospect List for the 2018 Season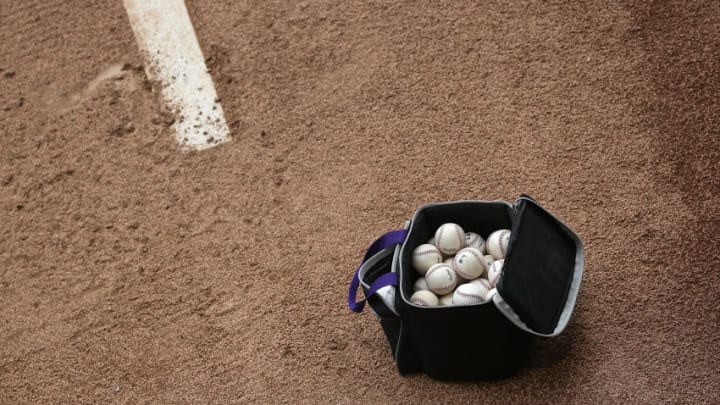 (Photo by Doug Pensinger/Getty Images) /
MLB Pipeline has released their top 100 prospects for the 2018 season.  What Pittsburgh Pirates prospects made this year's list?
Entering last season, the Pittsburgh Pirates had five prospects on MLB Pipelines' Top 100 prospect list.  All of them were ranked inside the top 60 at the time.  First up was Kevin Newman, who was ranked at number 59 overall.  Then was Mitch Keller, who came in ranked at number 48.  First baseman Josh Bell was up next on the list, ranking at number 27 overall.  Of course, the next two were the two top prospects for years in the Pittsburgh Pirates organization.  Austin Meadows came in at number 10, and was the second base overall outfield prospect.  The highest rated player was Tyler Glasnow, who was ranked at number and as the number third best pitching prospect.
Now, obviously, a lot of the players from last year are no longer eligible for the list.  Tyler Glasnow and Josh Bell both graduated from prospect status.  Bell has lived up to his top 30 ranking so far.  Tyler Glasnow, as of now, looks very overrated, but still is young and has a lot of upside.  What players are on the list for the 2018 season?
Baz
In 2017, the Pittsburgh Pirates invested their first round pick in prep right-handed pitcher Shane Baz.  They made Baz the 12th overall pick in the draft, and he was the third prep pitcher taken.  He was noted for having three plus pitches and a developing changeup. His fastball sits in the low to mid 90s and he is projectable at 6'3" and 190 pounds.  After his positive début last season, MLB Pipeline felt he was worth being ranked number 67 overall.  This suggests how much upside the guys at MLB Pipeline believe Baz possesses.
Meadows
Next up on the list is a real disappointment.  For starters, his ranking has dropped quite a bit since last season.  Also, many expected this player to not even have prospect eligibility for this year.  Austin Meadows fell from the ranking of number 10 down to 45.  This is mainly because he had an injury riddled season, which in turn effected his stat line.  Still, Meadows is top 50 prospect and if he can stay healthy, he should jump back up the list and make his début this season.  This seems even more likely with an opening in right field.  Although he will not open with the Bucs from camp, if everything goes to plan, Meadows will be here in June.
Next: Baseball America Top 100
Keller
The last Pittsburgh Pirates prospect ranked on MLB Pipelines' new top 100 prospect list is Mitch Keller.  Keller did the opposite of Meadows, as he saw himself jump up significantly.  Keller jumped from number 48 to number 16.  This came after having a very impressive 2017 season.  However, his Arizona Fall League performance was even better.   He did not suffer a loss in the AFL, going 4-0.  Furthermore, he posted 1.52 ERA in 23.2 innings pitched and started the AFL All-Star game.  He will start in Double-A this year.
This is quite the drop off from last season's list, and still holds true when compared to previous years.  This expected from a team that was competitive for three straight years and saw a lot of their prospects graduate.  With picking later in the rounds from 2014-2016, it is hard to find that immediate top rated talent.  MLB Pipeline did have more players ranked than Baseball America did, with Baz not being listed by the latter.  It will be interesting to see the midseason update.