Pittsburgh Pirates Prospects: FanGraphs Top 100 Prospects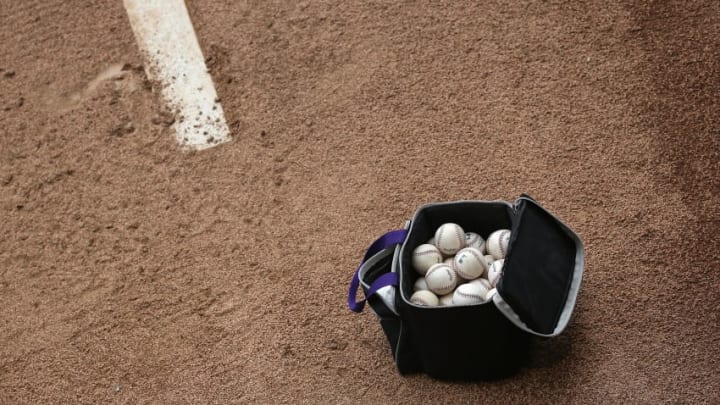 (Photo by Doug Pensinger/Getty Images) /
With pitchers and catchers reporting in a week, top prospect lists are starting to be released.  FanGraphs has released their top 100 prospect list, and the Pittsburgh Pirates fared well.
So far this offseason Baseball America, MLB Pipeline, and Baseball Prospect have released their top 100 prospect lists.  The Pittsburgh Pirates have not had a lot of prospects on those lists.  Austin Meadows and Mitch Keller have been the only two names to pop up on all three, while Shane Baz ended up on MLB Pipeline and Baseball Prospectus' lists.  However, on FanGraphs' newest list, the Pittsburgh Pirates are more represented.
FanGraphs is known as a sabermetrics haven online.  They look past traditional baseball stats like batting average, home runs, and other old-school numbers.  Instead, they look at advanced metrics that take a deeper look into a players productivity and their ability to maintain their level of play.  With prospects it is no different, they look into player's numbers and try to predict how they will develop and if they can carry over their metrics to big league level.  But they also lean on scouting reports from their twin prospect writers, and like every dot cross check it with those in baseball.  FanGraphs also breaks their list down into future value grades.  After the raw top 100 list, FanGraphs breaks the prospects down by their future value grade.
Five Prospects
The Pittsburgh Pirates have five players on FanGraphs list, by far the most on any list this offseason.  On the list are some surprising names, especially with some of them being ranked so highly. The five players that are ranked are Mitch Keller, Austin Meadows, Colin Moran, Ke'Bryan Hayes, and Cole Tucker.  Here is a look at where they rank:
Mitch Keller is a right-handed pitching prospect and has been unanimously voted as the organizations top prospect.  He comes in ranked at number 23 overall by FanGraphs.  His future value grade is a 60 out of 80.  In terms of their rating system, 60 means they believe Keller is likely to be a good number three arm in a rotation.
Austin Meadows comes in ranked at number 47 overall.  As many Pittsburgh Pirates fans know, Meadows was ranked higher last season.  At one point he was considered one of the top three outfield prospects in the game.  However, he struggled at Triple-A most of last season and missed a bunch of time battling hamstring and oblique injuries.  Because of his lackluster performance this past season, he has found himself sliding down the boards.  FanGraphs has his Future Value at 50, meaning they view him as a potential average big league player.
New Names
The next prospect is Colin Moran.  Moran is one of the newest additions to the Pittsburgh Pirates prospect collection.  He was brought over from Houston in the Gerrit Cole trade.  Moran is expected to break camp with the big league team, but he still has prospect status coming in at number 53. This is the only top 100 list he is ranked on.   Like Meadows, Moran also has a Future Value grade of 50, meaning they expect him to be league average at third base.
Two Former First Round Draft Picks
Another third base prospect came in ranked right behind Moran in Ke'Bryan Hayes.  Hayes, of course, was a first-round compensation pick back in 2015.  Hayes primary value is in his athleticism and defensive ability.  He won a gold glove as the best minor league third baseman last season.  However, he was not ranked on any top 100 lists until FanGraphs releases theirs, and they placed him at number 56.  His future value is also 50, although his variance is "medium", meaning he very well could increase his potential still, and he's neither a high risk or low risk prospect.
The last prospect to be ranked for the Pittsburgh Pirates is shortstop Cole Tucker.  Tucker was the Pittsburgh Pirates first round pick in 2014.  This is the first list that Tucker has been apart of thus far.  He also has a Future Value Grade of 50 with medium variance.  This has always been the mo for Tucker.  He has all the athletic ability in the world and has the projectable frame that should allow him to find some success at the big league level.  However, he has some variance in projected value moving forward, meaning he has the potential to be above league average.
Next: Why is Hayes Ranked so High?
What does FanGraphs list tell us compared to others?  Really not a whole lot other than more of an idea of what the future expectations should be for these prospects.  It seems that the only real unanimous top prospects that Pittsburgh Pirates have are Mitch Keller and Austin Meadows.  However, they do have some young projectable talents that could rise up the lists in the future, such as Hayes, Tucker, and Baz (who got an honorable mention).