Pittsburgh Pirates: Solid Performances from Keller and Ogle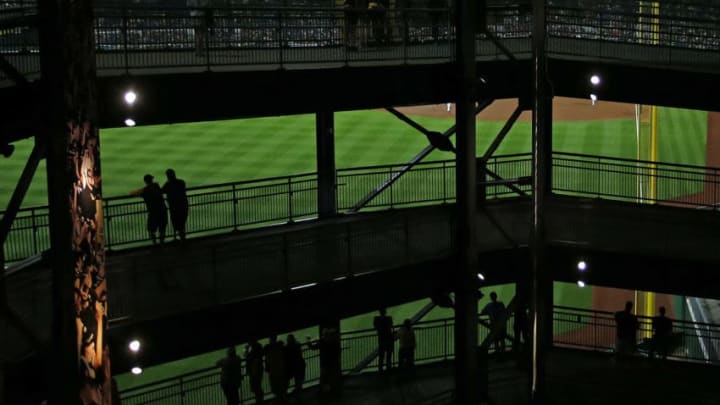 (Photo by Justin K. Aller/Getty Images) /
Two of the Pittsburgh Pirates former high school pitcher draft picks threw in games yesterday.  Both put together solid efforts.
The Pittsburgh Pirates are noted as a team that invests a lot of draft picks into high upside prep arms.  They did this in 2014 when they drafted Mitch Keller in the second round.  Keller received a well above average bonus to forgo his commitment to the University of North Carolina.  Meanwhile, in 2016 they once again heavily invested in the prep pitching market.  They drafted three high upside prep pitchers, one being Braeden Ogle in the fourth round. Both were on the mound yesterday in the Pittsburgh Pirates minor league system.
Mitch Keller made his second start of the 2018 campaign.  Keller was dominant in his first start of the year with the Curve, throwing six innings of shut out baseball and striking out eight.  He followed that start with another really strong outing last night.  He pitched against the Cleveland Indians Double-A affiliate, the Akron Rubber Ducks.  This time he did yield a run, but still threw 5.2 innings and only gave up the one run.  He allowed three hits and walked three while striking out five.  This gives him a 0.77 ERA with 13 strikeouts in 11.2 innings.
Braeden Ogle
The other prep pitcher was left hander Braeden Ogle.  Ogle was a fourth round pick in 2016.  He was considered one of the top lefty prep pitchers in the draft, but was viewed as a tough sign.  This was because he was committed to the University of Florida, one of the top baseball programs in the nation.  Instead, he signed with the Bucs for a signing bonus above slot value. Ogle also had a very solid performance in his second start of the season yesterday. He needed one after his first start of 2018.
The former Gator commit only made it through three innings in his first start.  In those three innings he gave up three runs including a home run.  He walked four batters which led to much of his problems, but he also struck out four.  His second start that came yesterday was much better.  He doubled his innings, throwing six against Charleston, the Low-A affiliate of the New York Yankees organization.  In those six innings, the 6'3" lefty gave up only one run, while walking two and striking out another four. While he limited the number of free passes he was touched for six hits, so he worked out of a few jams.  On the year, he now has an ERA of 4.00 in nine innings pitched.
2018 Outlook
These two are both in different spots in their careers.  Mitch Keller is off to another dominant start to his career, and is on his way to pushing to make the big leagues by the end of the year. Meanwhile, Ogle is entering his first season of playing a full schedule.  For Ogle, he will need to continue to develop and just show simple improvements each start.  Keller will need to continue to dominate if he hopes to join the Pittsburgh Pirates this season.