Pittsburgh Pirates Twitter Mailbag: May 2, 2018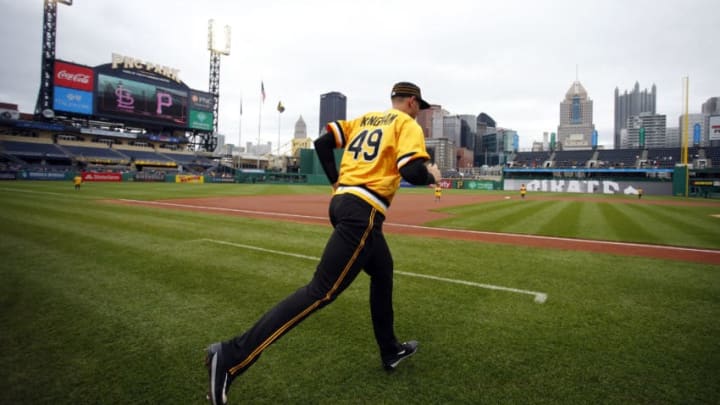 PITTSBURGH, PA - APRIL 29: Nick Kingham #49 of the Pittsburgh Pirates runs onto the field to make his major league debut against the St. Louis Cardinals at PNC Park on April 29, 2018 in Pittsburgh, Pennsylvania. (Photo by Justin K. Aller/Getty Images) /
Welcome back to the weekly Pittsburgh Pirates mailbag here at Rum Bunter
It is that time of the week again, time for our Pittsburgh Pirates mailbag here at Rum Bunter! While the Pirates have lost back-to-back games to the Washington Nationals, this past week was a good one for the Bucs as they entered this series having won five games in a row to get back into first place in the National League Central Division.
As always, thank you to everyone who participated in this week's mailbag. Now let's dive into the questions.
This would certainly be a good problem to have.
Nick Kingham was fabulous in his Major League debut this past Sunday and will make another start in Milwaukee on Friday. As for Joe Musgrove, he made his first rehab start for Bradenton on Tuesday and he will make three more before rejoining the Pirates.
I have a hard time believing Musgrove will not be in the Pirate rotation once he is healthy. However, this does not mean it will impact Kingham.
If Kingham continues to pitch well it will be extremely difficult to remove him from the rotation, especially if Chad Kuhl continues to struggle. That said, these things usually have a way of working themselves out.
If Kingham remains in the rotation long-term, it will not lead to a trade. Steven Brault has already been moved back to the bullpen, and could potentially be sent back to Triple-A Indianapolis. As for Kuhl, he has options and if he continues to struggle could be sent to Indy as well.
Additionally, it would not behoove the Pirates much to trade either of these players to make room for Kingham, or potentially Musgrove. Neither would carry much trade value, so the team would be better served to option them to Triple-A to keep them as depth options.
While Jameson Taillon hit a rough patch earlier this month with back-to-back awful starts, there is little reason not to expect him to bounce back. His bounce back started with his strong start in Monday night's Pirate loss.
Despite his two poor starts, Taillon is still striking out a career high 21.6 percent of batters faced this season while his walk rate of 6.7 percent is down from last season. He also owns a career-best 58.7 percent groundball rate, while allowing hard contact a career-low 25.5 percent of the gym. Also, I believe a lot of people forget he was one pitch away from escaping that disastrous second inning in Philadelphia trailing just 1-0.
It would be a surprise to see Taillon not return to his top of the rotation self.
While I firmly believe Gerrit Cole was in need of a change of scenery and that he is benefitting greatly from it, things are not that simple. Cole's best pitch is his slider, after throwing it just 17.2 percent of the time in 2017 and 17.9 percent of the time in 2016 he is using it 24.0 percent of the time this season. The last time he used his slider that much? The 2015 season when he threw it 21.2 percent of the time on his way to being a Cy Young Award Finalist. Cole has also spiked his curveball usage to a career-high 17.0 percent this season.
The same applies to Charlie Morton, whose best is his curveball. After never throwing it more than 25.0 percent of the time in any single season with the Pirates, he threw it 28.4 percent of the time last season and is throwing it 27.6 percent of the time this season.
So, to put it simply, what the Astros did was tell Cole and Morton to go heavy on their best pitches. Not exactly rocket science.
Personally, I believe a lot of people are still angry over the DUI issues and hold a grudge due to that. Not that any of these people who are this way and also are Steeler fans feel that way about Ben Roethlisberger, Hines Ward, or James Harrison's off field issues. But that's a discussion for another day.
As you pointed out, it's not fair to point to Jung Ho Kang's struggles in the Dominican Winter League last season. There was a lot going on there that is no longer a distraction to him. Additionally, he will now get as much time as need be in the minor leagues to readjust to professional pitching and knock the rust off.
One he returns to the Pirates, and I fully believe that's a question of when not if, it will be a huge boost to the Pirates both on the field and in the clubhouse. Remember, Kang was absolutel loved by his teammates in 2015 and 2016. And, based on comments/Tweets from guys such as Francisco Cervelli, Gregory Polanco, and Felipe Vazquez last week that has not changed.
Next: Bucs Lose Second in a Row vs the Nats
That will do it for this week. As always, if you ever have a question for our Pittsburgh Pirates mailbag look for out Tweet each week asking for questions.