Pittsburgh Pirates 2018 Draft: #36 Overall Pick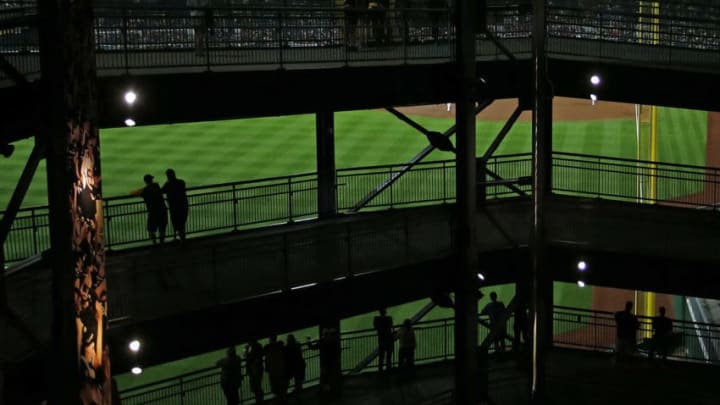 (Photo by Justin K. Aller/Getty Images) /
The Pittsburgh Pirates made their number 10 overall pick and now have made their number 36 overall pick.  They added a quality outfield prospect at number 10, so what did they add at number 36?
The Pittsburgh Pirates also had the number 36 overall pick in the draft.  This pick came after the first round and before the second round.  The pick is considered a competitive balance pick and they were awarded it via lottery.  The top 10 smallest market teams and smallest revenue teams are put into a lottery.  Last year, the Bucs had a pick in Competitive Balance B round, after the second round.  This year they were given the top pick in Competitive Balance A.  With the pick, the Pittsburgh Pirates selected righty prep pitcher Gunnar Hoglund.
Hoglund comes from the high school ranks out of Florida.  He is the prototypical, big framer, power arm righty that teams dream on.  The righty stands at 6'4" and weighs 210 pounds.  He has a college commitment to the University of Mississippi (Ole Miss).  MLB Pipeline has him ranked as the number 66 best player in the draft and Baseball America has him ranked at number 84.  While he seems like a bit of a reach, Baseball America had his stock rising as of this morning.  Also, this is not of character for the Pittsburgh Pirates.  In 2016, they took righty pitcher Travis MacGregor who was ranked a little lower, but so far he has looked very impressive in the minors.  Here is MLB Pipeline's scouting report on Hoglund:
""The right-hander throws strikes with a three-pitch mix, pitching mostly off of his fastball, which he'll throw anywhere in the 89-95 mph range. He throws his heater with good angle and plane, keeping it down in the zone. Hoglund does show an ability to spin a breaking ball, though he doesn't always stay on top of it, which keeps it from having enough bite at times. He has feel for a changeup, though he doesn't use it much.""
Next: #10 Overall Pick Travis Swaggerty
Hoglund is all about projection.  He has the size and arm that the Pittsburgh Pirates have done a good job of developing during Neal Huntington's tenure.  As of now, he has a relatively strong commitment to Ole Miss, but the Bucs have a good bit of money to spend to lure him from it.  For the number 36 pick, the Pittsburgh Pirates have $1.9 million to spend.  There is a good chance that they will save some money on their first-round pick Travis Swaggerty.  If that is the case they will likely use some of the money to sweeten Hoglund's bonus.