Pittsburgh Pirates Draft: Pick Number 114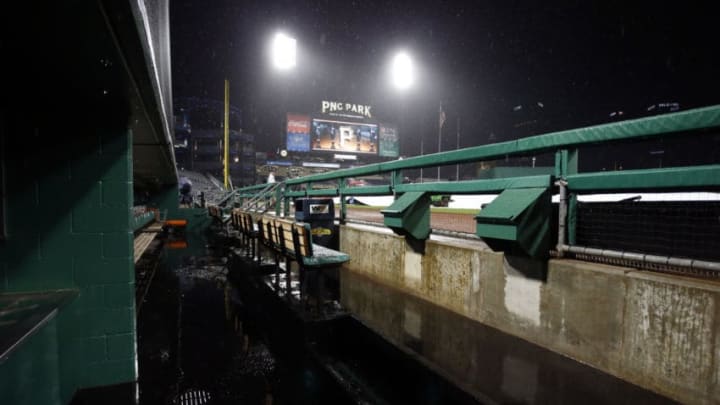 (Photo by Justin K. Aller/Getty Images) /
The 2018 MLB Draft is underway. The Pittsburgh Pirates 114th overall pick in the fourth round has come and gone.  The Pirates have selected Aaron Shortridge with their second selection of the second day.
The Pirates selected an athletic collegiate outfielder from South Alabama in Travis Swaggerty with their first pick of the draft, and followed that pick up with high school arms Gunnar Hoglund and Braxton Ashcraft in with their next two picks, both fitting the traditional mold of Pirates prep pitchers.
In the third round, the Pirates selected Connor Kaiser from Vanderbilt, a player who they should be able to sign for less than the slot of $673,000.  With the 114th overall pick, and the Pirates second pick of the day, the club has drafted Aaron Shortridge, a right-handed pitcher from Berkley.
The slot value for this pick is $488,200, but just like the third round pick, the Pirates should save money here.  Shortridge isn't ranked on Fangraphs or MLB Pipeline, but he does show up as the number 365 prospect on Baseball America.
The Berkley pitcher just turned 21 and stands at 6'3 and 196 pounds.  For Cal, the right-hander pitched to a 2.77 ERA in 91 innings and had a 20.1 percent strikeout rate and 3.8 percent walk rate.  He's spent some time in the Golden Bears bullpen in the past, as that's where he spent his freshman and sophomore years, and he also made five appearances this past season from the pen.
Shortridge tossed three complete games, and he tosses a low 90s fastball with a slider and changeup according to Baseball America.  Given his low walk rates and control, perhaps he can be a five starter at full ceiling, but a relief pitcher seems more likely.  Getting the slider to be above average and gaining a few ticks on the fastball should help Shortridge to even reach reliever potential.
This pick will allow the Pirates to save on their bonus pool, something that they've now done in back-to-back picks.  Like Kaiser, Shortridge won't be on the top 30 lists, but he will provide an arm that the Pirates will try to develop into a backend starter type.  There's a pretty good chance he serves as depth at max ceiling.