Pittsburgh Pirates News: Team Signs Jung Ho Kang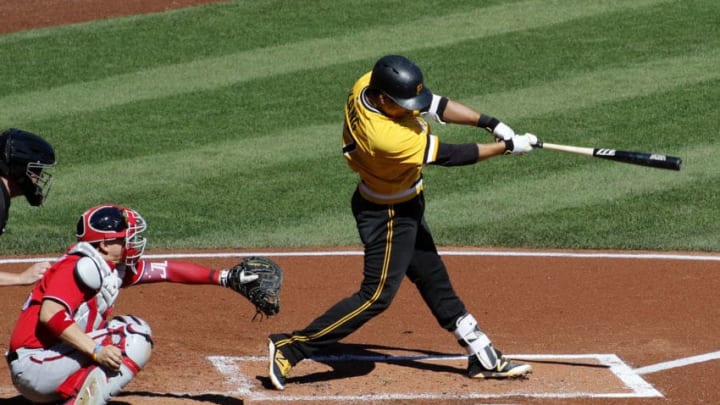 PITTSBURGH, PA - SEPTEMBER 25: Jung Ho Kang #27 of the Pittsburgh Pirates hits a RBI single in the first inning during the game against the Washington Nationals at PNC Park on September 25, 2016 in Pittsburgh, Pennsylvania. (Photo by Justin K. Aller/Getty Images) /
The Pittsburgh Pirates have made their first move in free agency this offseason by bringing back infielder Jung Ho Kang.
A few days ago, the Pirates declined the option on infielder Jung Ho Kang, paying him a $250K buyout.  With Neal Huntington mentioning his hope of finding a middle ground and strong interest in bringing the player back, it seemed as if only a matter of time before a deal would be complete.  Today, that deal is done as the Pirates officially have announced a one year deal:
Terms have not been announced, but something in the $2 million range with incentives to get Kang back to a potential $5.5 million seems like the obvious amount.  The soon to be 32-year-old has a career slash of .274/.355/.482, but because of the work visa issue has only played three games over the last two seasons.
In the minors, Kang hit .310/.408/.517 in 71 plate appearances split between High-A and Triple-A, before a wrist injury shut him down before his return to the Pittsburgh Pirates on September 28th.
Kang presents the Pirates with a large upside – a power bat that can either take over for Moran or platoon with Moran – at a minimal risk.  STEAMER, a projection system, projects Kang at a .261/.336/.472 slash with a 119 wRC+ and 1.5 fWAR in 65 games.  His STEAMER600 (set to 600 plate appearances) projects Kang at 3.3 wins, which would be the most on the Pirates with Starling Marte's per 600 plate appearances projected at 3.1.
There is downside, not having played in games since 2016 and still coming off a wrist injury, along with the off field issues of three DUIs and an alleged sexual assault, with the latter not having any charges and no news since 2016.
The Pirates have worked with Kang over the last two years, so they should have a better idea of what type of person to expect off the field.  They certainly feel the upside of the player is more than the potential risk that comes along with.
*Numbers from Fangraphs