Pittsburgh Pirates Starter Chris Archer Drops His Suspension Appeal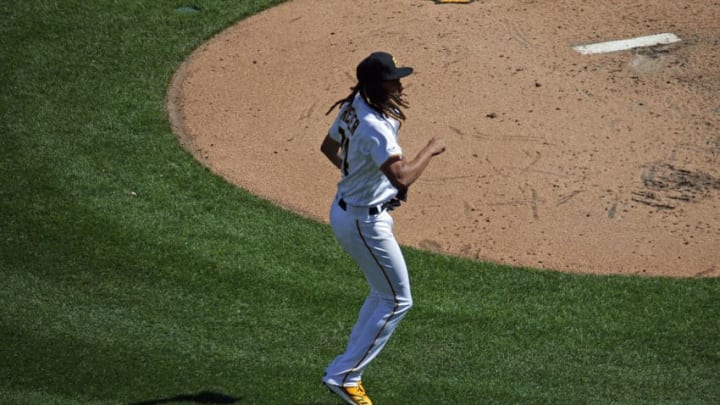 PITTSBURGH, PA - APRIL 01: Chris Archer #24 of the Pittsburgh Pirates celebrates after a strike out in the fifth inning against the St. Louis Cardinals at the home opener at PNC Park on April 1, 2019 in Pittsburgh, Pennsylvania. (Photo by Justin K. Aller/Getty Images) /
The Pittsburgh Pirates have shuffled their starting rotation for the upcoming week
Last Sunday, Chris Archer caused a stir when he threw at Cincinnati Reds utility man Derek Dietrich. This caused the benches to clear between the Reds and Pittsburgh Pirates, and led to a trio of suspensions being handed out. One of these suspensions was given to Archer.
Following the scuffle, Archer was given a five game suspension from Major League Baseball. However, Archer appealed his suspension which allowed him to still make his scheduled start against the Washington Nationals this past Saturday. Now, Archer has dropped his appeal and will begin to serve his suspension.
The reason Archer has dropped his appeal is that he can now serve his suspension without missing a start. Due to the Pirates having off days on both Monday and Thursday this week, Archer can serve his suspension and then start on Easter Sunday against the San Francisco Giants without the team needing to use a spot starter at all.
While the team will not need a spot starter, the Archer suspension will still force them to shuffle their starting rotation around. Jameson Taillon will take the ball this afternoon in the nation's capital as the team looks for a series victory over the Nationals.
Following Monday's off day, the Pittsburgh Pirates will then begin a two-game series in Detroit against the Tigers. Joe Musgrove will take the ball in game one on Tuesday night, while Trevor Williams will make Wednesday's start.
Thursday will be a travel day as the team heads back to Pittsburgh to start a seven-game home stand. To kick off the home stand on Friday night Jordan Lyles will make his third start of the season. Due to the off days, Taillon can start again on Saturday on normal rest. After this game Archer's suspension will be over and he can then return for Sunday afternoon's game.
When Archer's suspension was first announced, Nick took a look at how the Pirates could have Archer serve this suspension without missing a start. The team went on to handle the situation perfectly, and now Archer will serve his suspension without missing a start.