Pittsburgh Pirates: Team Selects Athletic Outfielder Matt Frazier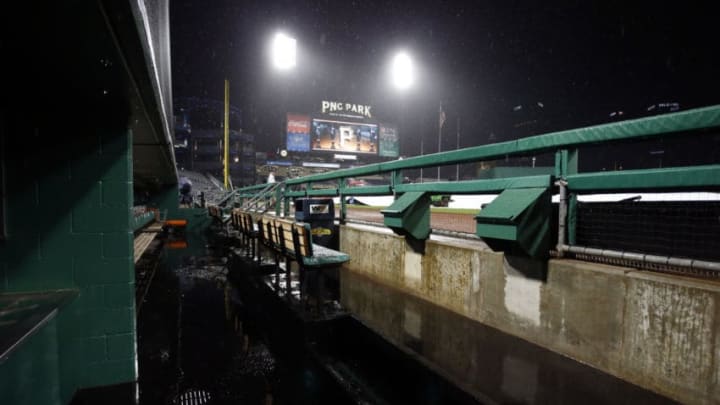 (Photo by Justin K. Aller/Getty Images) /
The Pittsburgh Pirates had four picks on the first day of the Major League Baseball Draft.  Today they pick rounds three through ten.  Here is who they took in the third round.
Yesterday, the Pittsburgh Pirates and the rest of Major League Baseball started the 2019 MLB Draft.  The teams selected through the first two rounds and the Bucs actually had four picks in those two rounds.  They took a prep pitcher Quinn Priester, outfielder Sammy Siani, outfielder Matt Gorski, and third baseman Jared Triolo.
Today, the Draft started back up at 1:00 PM eastern.  The team has no extra picks today but will select from rounds three through ten.  They actually already made their third-round pick.  With the 95th overall selection, the Bucs selected another outfielder in Matt Frazier.  This is already the third outfielder that the team has selected.
Frazier is coming out of the University of Arizona after an injury-plagued season.  He only played in 19 games this past season.  Still, the 21-year-old put together a solid season in limited action.  He hit .405, slugged .565, and had 28 RBIs.  Also, he only struck out six times while taking six walks as well.
Frazier is an interesting prospect and kind of goes along with the theme that the Bucs started on day one of the Draft.  He is a big, projectable player that is also highly athletic.  The 6'3" and 205-pound outfielder is a left-handed hitter but throws righty.  He likely will be a corner outfielder, where his power will definitely play.  Furthermore, PNC Park is built for left-handed power bats, so he has a chance to be an interesting player once he reaches the big leagues.  Here is more from Baseball America on the 21-year-old:
""When healthy, Frazier was not only making more frequent contact, but he was also tapping into his average power more often. In the long term, he projects as a gap-to-gap hitter with more doubles than home runs.""
Frazier broke his hamate bone which shut down his season at with the Wild Cats.  However, his good start apparently was enough for the Bucs to believe he was worth a third-round pick.  He is not ranked inside MLB Pipeline's Top 200 but is ranked on Baseball America at number 272.  The 95th pick has a value of $610,800, but with Frazier being ranked much lower than the 95th spot the Bucs likely will save a decent chunk of change toward their bonus pool.
The Bucs next pick comes in the fourth round.  The team will complete rounds four through ten over the next several hours.  With the Bucs taking so many college hitters, they may look back to the pitching ranks with their next picks.  Be sure to check back for updates on their selections today.