Pittsburgh Pirates Rumors: Conflicting Reports On General Manager Neal Huntington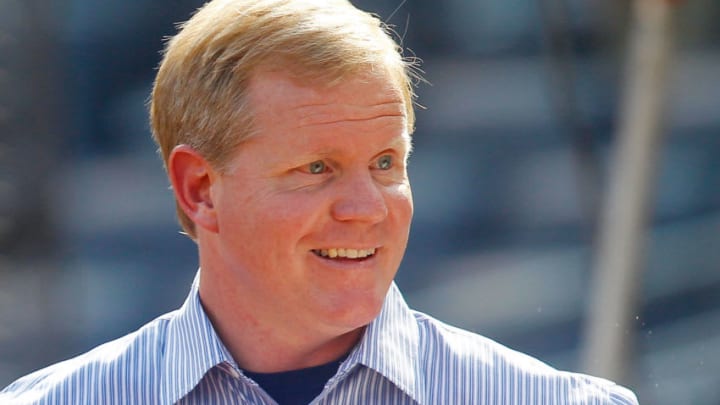 (Photo by Jared Wickerham/Getty Images) /
Neal Huntington has been the General Manager for the Pittsburgh Pirates for over 12 seasons. His tenure may be coming to an end.
This morning the Pittsburgh Pirates officially parted ways with team President Frank Coonelly. While the relationship between the President of an MLB team and its operations staff, including the GM, is sometimes blurred, this immediately put Huntington's job in jeopardy.
Reading between the lines of the Pirates official statement when they released Coonelly should have Neal even more concerned. Specifically, the sentence: " This leadership transition gives us the opportunity to refresh our entire operations." This sentence could easily be interpreted to mean that a complete overhaul of the organization is coming.
Just recently, there are reports that fans may not have to read between the lines much longer. Dejan Kovacevic is reporting that he is hearing assertions that Neal will be fired.
While the firing is not official, it does seem as if the writing is on the wall for Neal. A new GM would allow for an easier transition under a new team President and coaching staff, and may even help attract better coaching options to Pittsburgh.
Following his previous tweets, Dejan then posted that Huntington's fate may be completely decided by the President that replaces Coonelly.
Many reports have surfaced that former Penguins employee Travis Williams will be taking over as the President of the Pirates. If Nutting has given Williams the decision rights over the General Manger position, it is hard to imagine that he would keep Huntington.
Following the news from Kovacevic, MLB Network's Jon Heyman chimed in. Heyman's report completely contradicts Kovacevic's, claiming there are no plans to fire Huntington. Plans, however, can always change.
The recent lack of success of the organization also raises large concerns for Williams when deciding whether or not to keep Huntington. Much of the Pirates most recent collapse can be directly attributed to the failed signings and decisions made be Neal. Whether it is the mysterious disappearance of Lonnie Chisenhall, the absolutely disastrous Chris Archer trade, the botched firing of Clint Hurdle, or the lack of farm system depth – Neal has very few successes to point towards to convince Williams that he should stay around.