Pittsburgh Pirates: Top 5 Shortstops in Franchise History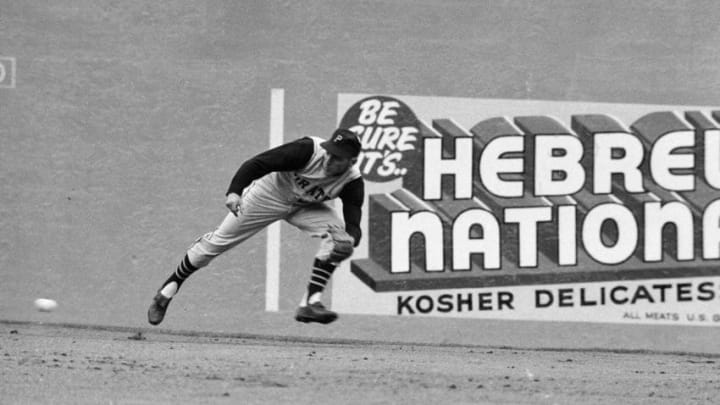 NEW YORK, NY - APRIL 13: Dick Groat #24 of the Pittsburgh Pirates fielding during a MLB game against the New York Mets on April 13, 1962 in New York, New York. (Photo by Herb Scharfman/Sports Imagery/Getty Images) /
PITTSBURGH, PA – 1993: Shortstop Jay Bell of the Pittsburgh Pirates throws to first base in an attempt to complete a double play as Walt Weiss #22 of the Florida Marlins slides into second base during a Major League Baseball game at Three Rivers Stadium in 1993 in Pittsburgh, Pennsylvania. (Photo by George Gojkovich/Getty Images) /
Number 3 Jay Bell
Jay Bell is one of only three Pittsburgh Pirates shortstops with at least 1,000 games played in a Pirates uniform and wRC+ above 100. During Bell's 18 year career, he spent eight of the seasons with the Pittsburgh Pirates.
In those eight seasons, Bell batted for a solid .269/.339/.402 line. Although those are not the best of numbers, it was good for an above league average 104 wRC+ and 102 OPS+. Bell had a very good stretch of seasons from 1991 to 1994. In those five seasons, the middle infielder hit for a .280/.350/.420 line, and 111 OPS+. His best offensive season was in '93 when Bell batted for a strong .310/.392/.437 line, 16 stolen bases, and a 124 OPS+ (his highest single season OPS+).
Bell wasn't just a plus-offensive force, negative-defensive force. He was just as good on defense as offense. Bell had a 7.8 dWAR, including four 1+ dWAR seasons. He also had a positive mark of 64.8 on Fangraphs' positional adjustment.
Bell was a member of three division winning clubs with the Pirates in 1990 – 1992. During those postseasons he posted a 145 wRC+, 188 wRC+, and a 80 wRC+. So, when the lights shined brightest, Bell was at his best for the Bucs.
Overall, Bell finished off his Pirates tenure with a 24.5 fWAR, 102 OPS+, and .332 wOBA. Bell went on to win a World Series with the Arizona Diamondbacks in 2001, and he returned to the Pirates in 2013 when he served as the team's hitting coach