What Does 2020 Hold for Pittsburgh Pirates Pitching Prospect Max Kranick?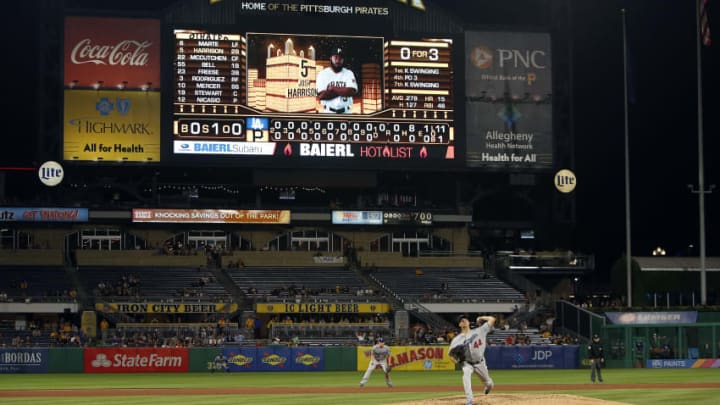 After a strong season with High-A Bradenton in 2019, what does 2020 hold for Pittsburgh Pirates pitching prospect Max Kranick?
Right-handed pitcher Max Kranick was selected by the Pittsburgh Pirates in the 11th round of the 2016 MLB Draft. Kranick, a Scranton native, was set to play college baseball for the University of Virginia. However, after the Pirates offered over slot money, Kranick decided to sign with his home state Pirates over playing for the Cavaliers.
Kranick was able to quickly start his professional career. After signing with the Pittsburgh Pirates, he pitched 33.1 innings in nine games (six starts) for the GCL Pirates in 2016. His pro career got off to a strong start, as he posted a 2.43 ERA and a 2.82 FIP in these 33.1 innings of work.
In MLB Pipeline's latest rankings, Kranick is ranked as the Pirates 21st best prospect. This comes on the heels of him spending the 2019 season with the High-A Bradenton Marauders. Kranick made 20 starts for the Marauders last season, posting a 3.79 ERA and a 4.23 FIP in 109.1 innings of work. He allowed 11 home runs (0.91 HR/9), walked just 6.7% of batters faced, struck out 17.3%, and stranded 72.6% of base runners.
Starting in 2017, Kranick began to battle shoulder issues. These issues limited him to just five starts in 2017. Then in 2018, Kranick made the jump to Low-A. In 17 games (16 starts) at the Low-A level, Kranick posted 3.81 ERA, 3.55 FIP, 0.81 HR/9, 5.6% walk rate, and a 23.9% strikeout rate in 78 innings of work.
Throughout his minor league career, Kranick has pitched well. In 245 career innings pitched, Kranick owns a 3.34 ERA, a 19.3% strikeout rate, a 5.8% walk rate, and he's allowed just 20 home runs.
Kranick's best pitch is a power fastball. His four-seamer sits in the mid-90s, and he has a little extra in the tank when need be as his fastball topped out at 97 MPH last season. His fastball is at its best when he elevates the pitch into the upper half of the strike zone.
He also throws a slider, which has a 50 grade from MLB Pipeline, and a change up, 45 grade. While the slider is the better of the two pitches, both remain a work in progress. His slider has become his go to secondary pitch.
Kranick will turn 23 in July. So, still being at High-A at his age would be a discouraging sign. However, that does come with an asterisk due to his injury issues of the past.
If the 2020 season is able to get underway, look for the Pittsburgh Pirates to have Kranick start the season with Double-A Altoona Curve. If he finds success with Altoona, he could find his way to Triple-A by the end of the season.
Kranick needs to improve his secondary pitches in 2020. Developing pitches to complete his power fastball will be the difference between Kranick continuing to develop as a starting pitcher, or potentially seeing his future in the bullpen. Continuing to stay healthy will be important for Kranick as well.
This, however, will be less of a test now that the season will be shortened. Prior to the coronavirus pandemic causing the start of the baseball season to be delayed, it appeared Kranick would be expected to log around 130 innings at Double-A. 2020 will be an important season for Kranick. If he puts together another strong season, he should re-solidify his status as potential future back of the rotation option for the Pittsburgh Pirates.