Pittsburgh Pirates: A Day in the Life of a Minor Leaguer With Grant Ford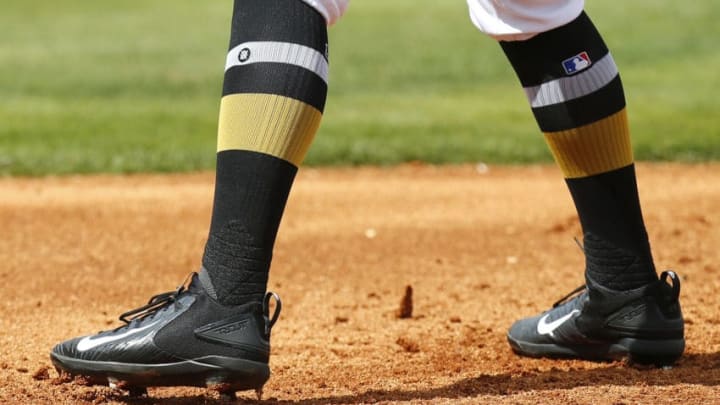 In today's 'A Day in the Life of a Minor Leaguer' series we were fortunate enough to interviewed Grant Ford. A great young prospect from the sunny state of California. 
On Saturday, I had the pleasure of talking to two outstanding Pittsburgh Pirates prospects in Grant Ford and Quinn Priester. The first of two articles will dive into the conversation Ford and I had early in the afternoon. This will be my sixth installment of 'A Day in the Life of a Minor Laguer.'
The way I like to start any interview is to explain who they are for anyone who doesn't know who they are as an individual. So, in his words, who is ford?
"I'm just a normal guy. I play a lot of video games, and I love sports, and I watch a lot of football and basketball. There's nothing too crazy about me, just a normal guy."
Like any normal guy, he has favorite teams to watch and root for regularly. "Basketball I'm a big Warriors fan I'm from San Jose California grew up in the bay watching Warriors games. Raiders and the A's were my teams as well."
Grant, when I spoke with him, seemed like a really relaxed and loose individual. He seemed like a guy you could sit down and have a beer with and just discuss life among other things. Which is why I think he used "relaxed and loose" as the words he would use to describe himself.
"I try to keep things light in the room I don't like to be serious all the time until I step on the mound, then I'm a completely different person than what I normally am in the outside world."
For someone who is relaxed, that doesn't mean he doesn't have a work ethic and grinds every day previous to his start on the mound.
"I do everything I need to do before that start leading up to it, not the day of I've already prepared that whole week prior to my start. On the day of my start, I try to keep my mind as much as possible off baseball. I'll play some video games in the morning and listen to some music, and THEN I will lock in when I need to start getting ready. I can't just keep thinking about baseball the whole 24 hours before."
With tons of influences in California and within a family unit, I wanted to know if any influences drove Grant to play baseball.
"Growing up, I didn't come from the most athletic family; my parents played some sports but nothing at the college level, so they encouraged me to play any sport I wanted to. I was big into basketball, hockey, and baseball. Growing up actually basketball and hockey were my two favorite sports; as I got older and older, the skills in those sports just weren't there, and my body developed more into a baseball player."
Careers end, and when they do, some guys don't have a plan for that, not Grant Ford. "I'd really like to get into coaching," he said. I mentioned to him that Samson Abernathy would love to do that as well. "I love him, he's a cool guy, he's another normal North Cal guy, him and Austin Roberts." The way he spoke to me throughout this entire interview, I could see him being that calming voice in the clubhouse and leading a team as the skipper.
Everyone sets five-year plans, but to be a little different, I wanted to see where Grant wants to be in three years.
"Under the lights pitching at PNC Park honestly, that's the big plan. I'm going to try and do everything I can to get there." He seemed like the kind of guy who will grind and try everything he can to achieve his goals. "I'm just a blue-collar guy from California. That's the type of baseball they teach at Nevada that hard-nosed old school baseball."
Grant mentioned to me how he changed within his college career at the University of Nevada. "I was two different people during my days at Nevada. You had freshman and sophomore Grant. His mental side wasn't really there, he wasn't full in on the field, and it showed in my stats I was terrible my freshman and sophomore years. Then there is junior year Grant Ford, and he was a whole different animal. Things clicked, and the big difference my junior year and going into pro ball. I was able to slow the game down. My first pro ball year was a hell of a lot easier than my freshman and sophomore year of college."
I think I've asked this question to everyone, but I wanted to know what player Grant looked up to growing up and who he tried to model his game after. "Growing up just watching old highlights, my grandpa was a big baseball guy, so Nolan Ryan sticks out to me. That aggression on the mound that's one guy I was like oh I want to be like him. He had that I'm going to get you out mentality."
Grant made the transition from reliever to starter last year with West Virginia, and, in fact, he started eight out of his 11 appearances last year. So naturally, I wanted to know if that is where he is most comfortable now.
"I honestly loved it. There is not many things in the game of baseball that will match the intensity of being a closer, but being a starter is more like it. Being that guy and that presence on the mound from the get-go and carry your team along the way and help them win, I love the whole change. It's something I didn't see for myself the whole time I was in college I was like I'm a reliever, and even going into the draft, I was that way. Then I bought into my new role, and with each start, I became more comfortable."
During the 2019 season, I wanted to know what were the main talking points on improvement from pitching coach Tom Filer and manager Drew Saylor were. "The main thing was out of college, I only pitched out of the stretch. So I had to learn how to develop a windup as a starter. It wasn't weird because I had a windup my freshman and sophomore year, but just finding one that will work for me and my timing. Then it was just matching up with all my pitches all out of the same arm slot."
One of the main things Grant said he was working on was, "I'm working on a one seam fastball, so it's basically just a sinker. I'm working on adding that I used to just throw four seams now. I'm working on the sinker with it." Adding that sinker to his repertoire would definitely help with his ground ball mentality. "I'm a ground ball no hard contact pitcher the way my spin rate plays off my fastball I should be throwing a two-seam to give me more run with more downward action, which is why I'm trying to turn this into a power sinker."
The grind doesn't stop there. Grant also noted, "I'm trying to improve on trying to mix up my pitches more becoming more consistent with my change up and slider. Kind of just matching everything and becoming more of a complete player. In college baseball, you can get away with throwing over 95 with a good slider, and in pro ball, you can't. It's all about getting to that extra step on your pitches kind of perfecting them."
As far as a plan for Grant once the season gets going, "we've gone through a whole plan of where I'm supposed to go. At the end of the day, they told me at the beginning of spring training, and a lot can change throughout spring training, so I never really know until the day you get sent out you kind of get used to living like that because that's just baseball."
With the pandemic going about, you still have to get in reps any way you can so what Grant's routine is, "I wake up every day around 8:00 or 8:30 I go and make breakfast, and I play catch with a junior in high school at 11:00 every day. Then two days a week, I call up a junior college catcher to catch a bullpen for me, and that's basically how it's going right now."
Now here comes the most serious question out of them all. I wanted to know if Grant was a Star Wars guy or a Star Trek guy? He adamantly responded, "Harry Potter guy," completely throwing a wrench in everything and coming out of left field. Overall, Grant Ford is a great guy, and I'm extremely compelled to watch him mature and develop his skills as he tries to make it to the show.