Pittsburgh Pirates: Five Best Right Fielders in Franchise History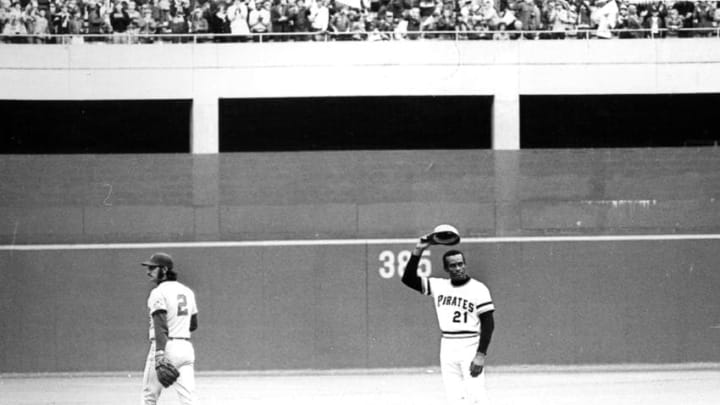 PITTSBURGH, PA – 1977: Dave Parker of the Pittsburgh Pirates bats during a Major League Baseball game at Three Rivers Stadium in 1977 in Pittsburgh, Pennsylvania. (Photo by George Gojkovich/Getty Images) /
Number Three – Dave Parker
Dave Parker deserves to be in the Hall of Fame. The fact he is not in the Hall of Fame is a shame.
The Cobra was a five-tool player in his prime with the Pittsburgh Pirates. During his tenure with the Bucs, which lasted from 1973 to 1983, Parker was an outstanding batter. He hit .305/.353/.494 with 166 home runs, and a 131 OPS+/wRC+ in 5267 plate appearances. Overall, he had a 33.3 fWAR with the Bucs.
When I say he was a five-tool player in his prime, I wasn't joking. From 1975 to 1980, Parker hit 131 home runs, averaging 20-25 a season, and stole 94 bases, averaging 15-18 a season. He also won three, well deserved Gold Glove Awards with the Pirates. Parker racked up +17 total zone runs in his Pirates tenure, including a +25 mark in 1977.
We also can't talk about Dave Parker's fielding ability without talking about the cannon he had on his right shoulder. Parker fell just one outfield assist from 100 during his time with the Pirates in right field. Overall he had 101 with one outfield assist in both left and center field.
The Cobra also won the 1978 MVP, despite not making the All-Star Game. Parker hit .334/.394/.585 in his MVP season. Both his batting average and slugging percentage led the league. He slammed 30 home runs, and 20 stolen bases. Parker also led the league in OPS+ at 166, and had an overall bWAR of 7 that season. He also helped the Pirates take home a World Series Championship in 1979.