Pittsburgh Pirates 2020 Draft: 31st Overall Selection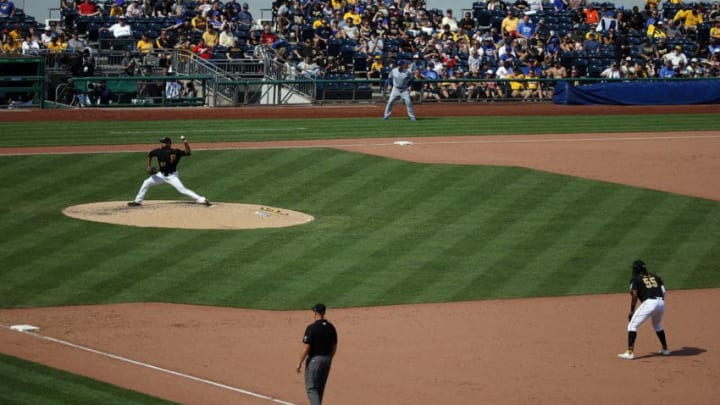 The Pittsburgh Pirates have already picked up one of the most elite bats available in the draft.  Who did the team take with their pick at number 31?
Things started off strong for the Pittsburgh Pirates tonight with the team grabbing infielder Nick Gonzales.  The team took the New Mexico State product with the seventh overall pick.  The team not only got one of the top bats in the draft, but a player who was ranked inside the top five on many credible sites.
The Pittsburgh Pirates second pick of the night was at 31st overall.  The team picked up this draft pick as part of the Competitive Balance Lottery.  Originally the pick was slotted at 32, but the Houston Astros had to forfeit their first-round pick.  Who did the Pittsburgh Pirates take with their second selection of 2020?
The team selected University of South Carolina starting pitcher Carmen Mlodzinksi.  He is a somewhat projectable starter who is pretty physically mature for his age.  He stands at 6'2" and weighs around 230 pounds.  He has a fastball that has hit as high as 99 but sits in the mid-90s regularly.  The issue is Mlodzinski missed most of the 2019 season due to a foot fracture.
This could benefit the Pittsburgh Pirates.  MLB Pipeline had him ranked 21st overall while FanGraphs has him at number 48.  With limited college innings, it makes sense for there to be a wide range of rankings for him.  Still, it is good to see that MLB Pipeline believes he has top 20 potential despite missing time.  Here is more from them on Mlodzinksi:
"Mlodzinski sat at 92-96 mph with his fastball on the Cape and touched 99 during fall practice, and his heater also features some sink and run. He flashed a plus curveball in high school but has scrapped that for a low-80s slider with power and depth that sometimes morphs into a cutter. He also shows feel for a sinking changeup and could have three plus pitches once he's fully developed."
The good news is that he has solid control, which likely sets him up to have a floor as a backend starting pitcher with a loftier ceiling.  This is a good pick for the Pittsburgh Pirates after grabbing a bat at number seven in Nick Gonzales.
At one point it looked like the team would be tempted by pitcher Emerson Hancock with the seventh pick.  Instead, he went off the board at six to the Seattle Mariners.  It makes sense that Ben Cherington still wanted to add a high upside college pitcher and he got one at number 31.