Pittsburgh Pirates News: Cole Tucker Starting in Right Field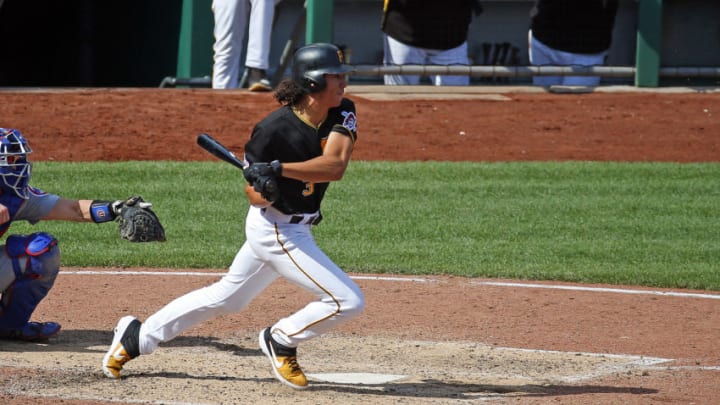 (Photo by Justin K. Aller/Getty Images) /
The Pittsburgh Pirates tried out one of their top infield prospects in the outfield during the exhibition games. Now, he will get his first regular-season outfield start.
The Pittsburgh Pirates offense was one of the bright spots from the exhibition series against the Cleveland Indians.  However, Jack Flaherty looked just as good as he did last year and the Bucs bats got off to a slow start.  The team's outfield went a combined 0-11 while leaving four men on base.
So today, Derek Shelton is going with some changes to the lineup.  First, he is moving Colin Moran to the designated hitter role.  This is going to allow preseason breakout utility man Phillip Evans to get his first start with the Pittsburgh Pirates at third base.  Evans, who is 27, should get a sizeable opportunity to prove he is a big-league player.
However, the most interesting change to the lineup comes in the outfield.  The Bucs will have Guillermo Heredia shift from right field to center field.  Replacing him in right field will be Cole Tucker.  The Pittsburgh Pirates 2014 first-round pick has always been considered a gifted shortstop.  However, Shelton is looking to get him at-bats any way possible.
All things considered, Tucker handled the outfield fairly well in the preseason.  This shouldn't be surprising as he is one of the most gifted athletes on the Pittsburgh Pirates roster.  The big thing for him will be for his bat to get going. Tucker has a 6'4" frame and is a switch hitter; if he can figure out how to start making more consistent contact, he will find his way into the lineup more permanently.
For now, he will have to take the at-bats he can get regardless of the position.  Kevin Newman earned the team's starting shortstop job last season.  Adam Frazier has done nothing but improve defensively as a second baseman and his bat has always played at the big league level as well.  If the team wants to trade Frazier, he will carry a lot more value as an everyday second baseman than as an outfielder.
Overall, Tucker has to prove that his bat will play at the major league level.  This outfield experiment is likely temporary to just get him at-bats.  If this past offseason was any indication, Ben Cherington will be shopping Adam Frazier.  If he is able to find a deal for the Pittsburgh Pirates second baseman, then Tucker may get a chance to earn the starting shortstop role.