Pittsburgh Pirates: Examining the Success of Ke'Bryan Hayes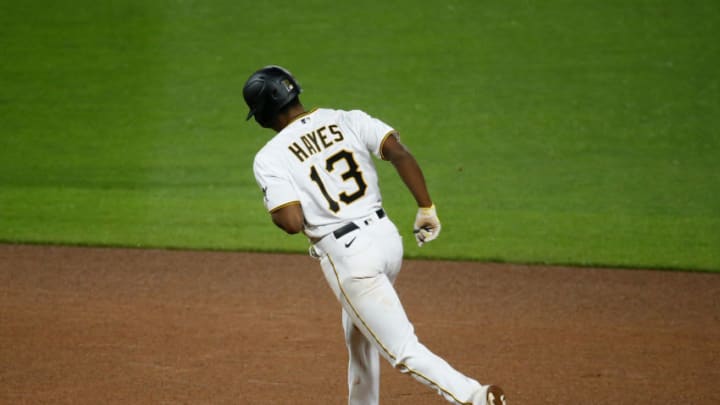 PITTSBURGH, PA - SEPTEMBER 01: Ke'Bryan Hayes #13 of the Pittsburgh Pirates rounds second after hitting a home run in the eighth inning during his major league debut against the Chicago Cubs at PNC Park on September 1, 2020 in Pittsburgh, Pennsylvania. (Photo by Justin K. Aller/Getty Images) /
Pittsburgh Pirates' prospect Ke'Bryan Hayes made his long awaited debut this year, and flourished. But what could that mean for the future?
For the past three seasons, Ke'Bryan Hayes has been climbing the top prospect rankings for the Pittsburgh Pirates. He first started to get recognition after the 2017 season when he hit .278/.345/.363 with a 109 wRC+, while stealing 27 bags and showing elite defense at third base. Then, he hit .293/.375/.444 at Double-A with a 129 wRC+, and continued to build on his defense. This put him on top 100 prospect maps as he entered 2019 as a top 60 prospect per multiple prospect services.
However, when he was moved to Triple-A, Hayes hit just .265/.336/.415 with a 92 wRC+. Though he did pick it up in the second half of 2019, hitting .290/.337/.435 post All-Star break. But this season made some people question whether or not his bat would ever come around. So far, it seems like it has.
In 2020, Hayes looked like he's putting any concerns about his bat to rest. While it is a small sample size of 95 plate appearances, he absolutely dominated pitching in those 95 plate appearances, batting .376/.442/.682 with 5 home runs, 7 doubles, a 195 wRC+, and 202 OPS+. This also included a hot streak at the end of the year where he reached base in 10 consecutive plate appearances, and went 5-5 in one game.
Defensively, he's been outstanding, which isn't a surprise. He posted a +4 Defensive Runs Saved, 0.3 URZ, 0.4 range runs, and +2 Outs Above Average through less than 200 innings at the hot corner for the Pittsburgh Pirates. That comes to a 1.6 fWAR. Among all third basemen in 2020, he was the 5th most valuable in baseball. He averaged more fWAR per plate appearance than AL MVP candidate Jose Ramirez, and NL MVP candidate Manny Machado.
Hayes's early career success has been fueled by his ability to absolutely crush the baseball. His average exit velocity is 92.8 MPH, which isn't far off from what it was in 2019 at Triple-A. This would tie him with Cubs slugger Kyle Schwarber who is in the top 96th percentile of exit velocity.
Not only is he making extremely hard contact, but he's doing it quite often. He ended the year with a 55.4% hard hit rate. Had Hayes had enough playing time to qualify, this would be in the top 10 of all MLB players. Mike Trout had a 55.1% hard hit rate, and that was in the top 98th percentile.
A lot of the success Hayes found can be attributed to his line drive rate. Hayes was hitting for line drives quite often with a 32.3% line drive compared to the league average rate of 25.7%. Line drives are the most productive kind of batted ball a hitter can have, so it's no surprise why he was so effective in his first taste of big league actions.
Now sure, he did this with a .450 batting average on balls in play, an extremely high number. But BAbip's main flaw is that it can't be used in small sample sizes like this. Just to show how much BAbip can fluctuate in small sample sizes, if just two more of his hits were home runs, his BAbip would go down by nearly 20 points to .431.
Hayes can hit to all fields. He enjoyed going up the middle the most with a 40% up the middle rate, but also pulled the ball 24.6% of the time, and went oppo 35.4% of the time, showing he can hit to all fields.
So what does this mean for Hayes in the future? I think he could be an MVP-caliber player. Hayes has always had the raw power to be a better power hitter. Just look at those exit velocity and hard hit numbers. The only issue is whether or not he could get the ball in the air enough. He carried a 47.7% groundball rate this year, which isn't great, but the fact he's majorly improved his line drive rate shows he's getting better. If he could just lower his ground ball rate just a bit, I could see him being an outstanding hitter for the Pittsburgh Pirates long term.