Pittsburgh Pirates: Liover Peguero Is The Shortstop Of The Future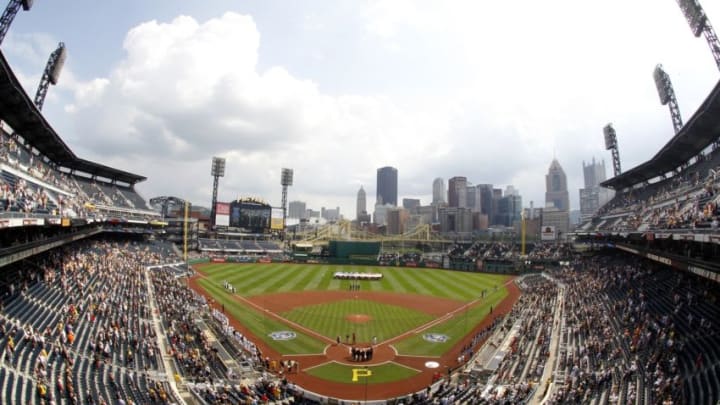 (Photo by Justin K. Aller/Getty Images) /
The Pittsburgh Pirates acquired Liover Peguero last off season and he should be seen as the team's shortstop of the future.
Last offseason, the Pittsburgh Pirates got a new general manager when they hired Ben Cherington. His first big trade was sending longtime outfielder Starling Marte to the Arizona Diamondbacks for 2019 first-round pick Brennan Malone and shortstop Liover Peguero. Although the Pirates have many young middle infielders, especially at shortstop, Peguero, who has made a positive impact on the organization since ariving, could be the future of the position.
Right now, Peguero isn't the top shortstop prospect for the Pittsburgh Pirates. That title would belong to power prospect Oneil Cruz. There's no question about Cruz's power ability. Standing at 6'7, 210 pounds, Cruz has an impressive power profile. FanGraphs gives his game power a grade of 60 and his raw power a grade of 80, the highest grade you can get.
Cruz can also run well seeing as he's stolen double digit bases in three of his four professional seasons. It's his defensive ability that might raise some questions. Although he can hold his own at the position, he only has a future 40 fielding grade at short. But Cruz has a cannon on his shoulder with an 80 arm grade. With his powerful arm, ability to run fairly well and athleticism at shortstop makes him a prime candidate to play an outfield position.
Not only should Cruz move to the outfield because his profile better fits the grass, but also to make room for Peguero. Peguero is a plus defender at shortstop. He has a future fielding grade of 55, and already has the same current grade as Cruz. He also has an arm that fits at short with a 55 throw grade.
Last year, Peguero started out the year at rookie ball where he hit .364/.410/.559 with a 153 wRC+ and .423 wOBA in 156 plate appearances. Although the athletic shortstop wasn't as effective with the bat in his hand when he was promoted to Low-A, he still showed a great deal of promise. He posted a respectable .262/.333/.357 line and 101 wRC+. His plate discipline also got better. Peguero's walk rate increased from 7.7% to 8.6% and his strikeout rate dropped from 21.8% to 18.3%. While we are looking at a plate appearance sample size of just 249, his hit tool is outstanding with a future grade of 60.
Peguero's athleticism is shown in his current 60 speed grade and 18 stolen bases in 410 professional plate appearances. He might not be the most powerful prospect, with only a game power grade of 40 and raw power grade of 50, but he does hit the ball hard enough. His average exit velocity was 89 MPH in just his age 18 season.
On the current MLB roster, the Pittsburgh Pirates have a few shortstop options, but none are too awe-inspiring or fantastic long term answers. Former first-round pick Cole Tucker might be the best defensive middle infielder in the organization and one of the fastest as well. But while I do believe he should be given a shot to prove himself now, at best, he's a league average bat unless he has some sort of offensive breakout.
Kevin Newman had a solid 2019 season, but his defense is well below average at short, ranking 25th of 28th in DRS (-10) and 26th in UZR (-8) in the past two years. Plus, with horrible batted ball numbers, nothing much is left to the imagination about his ability in the batter's box.
Right now, FanGraphs ranks the athletic Dominican shortstop as the 97th best prospect in all of baseball. Peguero might rank as the second-best shortstop prospect the Pittsburgh Pirates have, but I believe he's the best pure shortstop in the organization. Peguero has a fantastic hit tool who can run well and has an above average glove.