Pittsburgh Pirates News: Team Signs Middle Infielder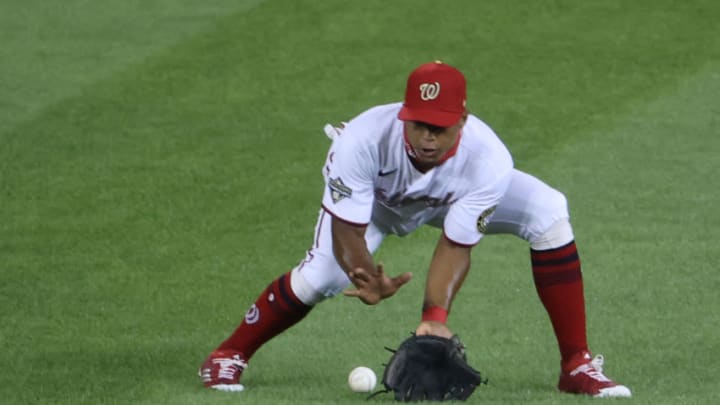 Aug 7, 2020; Washington, District of Columbia, USA; Washington Nationals shortstop Wilmer Difo (1) fields a ground ball against the Baltimore Orioles in the eighth inning at Nationals Park. Mandatory Credit: Geoff Burke-USA TODAY Sports /
Friday afternoon the Pittsburgh Pirates added to their MLB roster by signing veteran middle infielder Wilmer Difo
The Pittsburgh Pirates have made their first free agent signing of the offseason. According to multiple reports, the Pittsburgh Pirates have signed veteran middle infielder Wilmer Difo to a minor league contract.
Difo is a 28-year-old switch hitting infielder. Difo has played primarily shortstop and second base in his career, but he has also played third base and in the outfield. This signing, despite it being a minor league deal, should make Difo close to being a sure fire lock to make the team's Opening Day lineup as a bench player.
From 2015-2020 Difo played in 373 games with the Washington Nationals. In these 373 games Difo recorded 1060 plate appearances, hitting for a .247/.309/.348 slash line. Difo has a career wRC+ of 70, 8.1% walk rate, 19.2% strikeout rate, and his career isolated sugging percentage is .101.
During his MLB career Difo has logged 1022 innings at second base, 836.1 innings at shortstop, 264.2 innings at third base, and 33 innings in the outfield. He owns a Defensive Runs Saved of -3 at second base, +2 at shortstop, -2 at third base, and 0 in the outfield.
Last season, Difo logged just 18 plate appearances in 12 games. He went 1-for-14 with three walks and four strikeouts. His lone hit was a single.
Difo had an exit velocity of 88 MPH in 2020, a 0.0% barrel rate and a hard hit rate of 27.3%. For his career, Difo owns an 84.1 MPH exit velocity, 2.2% barrel rate and a 22.6% hard hit rate, all of those are well below league average.
Difo is entering his first year of arbitration. He remains under team control through the 2023 season and could become a mainstay on the Pirate bench in the coming seasons. Adding Difo to the roster could also further indicate that an Adam Frazier trade is coming this offseason.
The Pittsburgh Pirates now add Difo to Frazier, Cole Tucker, Erik Gonzalez, and Kevin Newman as middle infield options for 2021. It is more difficult than ever to envision Frazier making the team's Opening Day roster, especailly with Newman and Tucker both likely being players the Pirates want to see get as many at-bats as possible this season.