Pittsburgh Pirates Free Agent Target: Long Time SP Foe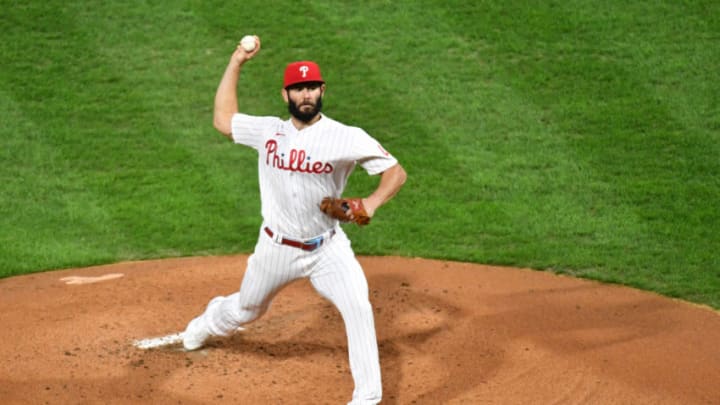 Sep 15, 2020; Philadelphia, Pennsylvania, USA; Philadelphia Phillies starting pitcher Jake Arrieta (49) throws a pitch during the second inning against the New York Mets at Citizens Bank Park. Mandatory Credit: Eric Hartline-USA TODAY Sports /
With the 2021 regular season nearing the Pittsburgh Pirates need starting pitching help and a long time foe could be of assistance. This starting pitcher is right-handed pitcher Jake Arrieta. While Arrieta may not be popular in Pittsburgh he could fit with the Pirates.
Arrieta is coming off a 2020 season in which he made just nine starts with the Philadelphia Phillies. In these nine starts, he logged 44.1 innings and posted a 5.08 ERA, 5.05 DRA and a 4.66 FIP.
Arrieta spent the last three seasons with the Phillies, but made his name with the Chicago Cubs fro m 2014-2016. During this three year stretch Arrieta started 89 games and pitched 583.0 innings, posting a 2.42 ERA and a 2.72 FIP.
During this fantastic three year stretch Arrieta walked just 7.2% of batters faced while striking out 26.0% of batters faced. He also allowed home runs at just a 0.48 HR/9 rate.
The best year of the bunch for Arrieta was 2015. During the 2015 season he posted a 1.77 ERA, 2.35 FIP, 5.5% walk rate, 27.1% strikeout rate, and a 0.39 HR/9 in 229.0 innings pitched. This included pitching a complete game in the 2015 NL Wild Card Game, as he ended the season of the 98 win Pirates.
The past three seasons with the Phillies, Arrieta did not pitch poorly but he also was not the pitcher he was with the Cubs. Arrieta made 94 starts with the Phillies and logged 521.0 innings pitched. In these 94 starts he posted a 4.09 ERA, 4.42 FIP, 1.23 HR/9, walked 8.1% of batters faced, and struckout 20.0%. This version of Arrieta is a version that could be very beneficial to the Pittsburgh Pirates.
Last season, opposing batters owned an 88.9 MPH exit velocity and a 7.8% barrel rate off of Arreita. While both of these were better than league average, they just barely snuck above the league averages of 88.3 MPH and 7.4% barrel rate. Essentially, both stats were league average.
If the Pirates were to sign Arrieta and he pitched well, he could become a strong piece of trade bait in July. Arrieta is a former Cy Young Award winner with a strong track record so, in July, when teams are desperate for starting pitcher help a healthy, effective Arrieta could net a big return of prospects.