Pittsburgh Pirates: Quinn Priester Enters Top Pitching Prospect List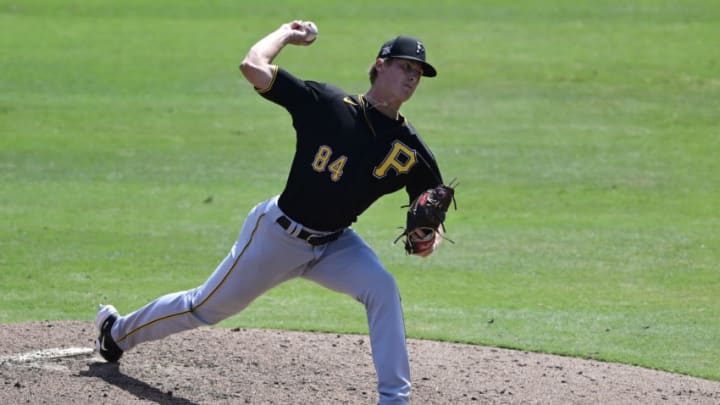 (Photo by Douglas P. DeFelice/Getty Images) /
The Pittsburgh Pirates future is bright and a big reason is because of some of their pitching prospects. There is one Pirate pitching prospect who continues to draw as much praise as any prospect in baseball.
In 2019 the Pittsburgh Pirates made Quinn Priester their first-round pick in what would be Neal Huntington's last Draft. Up until that point Huntington saw a real lack of quality MLB players come from his drafts. Ironically enough his last pick may end up being one of his best.
Priester was always viewed  as a high upside pitching prospect, but over the last 8 months or so his status has really gone to the next level. At just 20 years of age his is already gaining top 75 prospect recognition with the outlook that he will continue to rise. He is also firmly viewed as the Pittsburgh Pirates best pitching prospect.
Now he has made it onto another list. Every year MLB Pipeline puts out their Top 10 prospects for each position, including right-handed pitchers. Priester was not on the original 2021 Top 10 Right Handed Pitchers but was mentioned as the "next one up." Priester has now made this exclusive list. Tampa Bay Rays prospect Luis Patiño recently graduated from the list. So, Priester finds himself ranked as the 10th best right handed pitching prospect.
Priester, who was the top prep pitcher selected in the 2019 draft, is now ranked at the 43rd best prospect on MLB Pipeline.  This is obviously super exciting to see.  However, one thing that might be even more impressive is that Priester is the youngest player on MLB Pipelines Top Right-Handed pitcher list.  He is the only 20-year-old on the list, with the Orioles Grayson Rodriguez being the next closest at 21.
The Pittsburgh Pirates have seen plenty of their top pitching prospects not work out here.  Most recently is Mitch Keller, a prospect who was developed under the old regime.  Keep in mind this was a regime that also struggled to get Tyler Glasnow to pitch even somewhat effectively, and Gerrit Cole to put up Franchise Pitcher numbers like he is now. Priester has all the upside in the world, being just 20 years of age and already being considered one of the best at his position.