Pittsburgh Pirates Prospects Looking to Build Off Strong 2021 Finish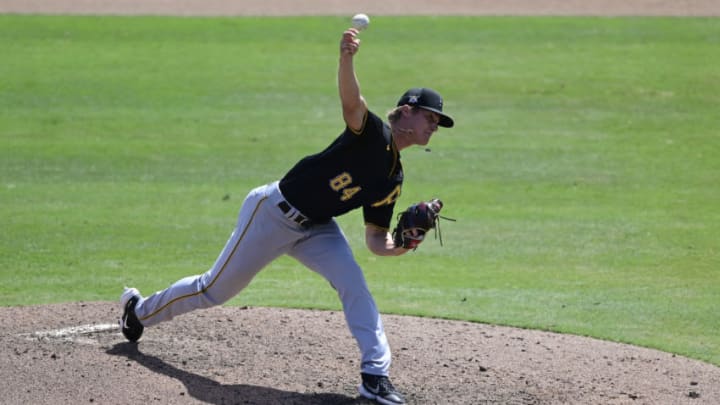 SARASOTA, FLORIDA - MARCH 15: Quinn Priester #84 of the Pittsburgh Pirates throws a pitch during the fifth inning against the Baltimore Orioles during a spring training game at Ed Smith Stadium on March 15, 2021 in Sarasota, Florida. (Photo by Douglas P. DeFelice/Getty Images) /
Many of the Pittsburgh Pirates top prospects had great second halves of the 2021 season and will look to build off of that as we head into 2022.
The Pittsburgh Pirates farm system was loaded with high-end talent in 2021. Many of those prospects had quality seasons and phenomenal second halves. They'll look to further build off of those strong final months of the season as they look to become regulars in the majors very soon.
The most apparent second-half performance from the Pirates was Nick Gonzales. Gonzales faced some struggles in the first half of the year, missing some time with injury and striking out more than you'd like. He had just an 88 wRC+, .706 OPS, and .307 wOBA through July 15th, but after that, Gonzales started to hit like the prospect we all expected him to be.
From July 16th onward Gonzales batted .353/.438/.647 with a .453 wOBA and 183 wRC+. Gonzales was nearly 100% better in the second half of the season than the first half. He had just a 23.8% strikeout rate and a strong 12.1% walk rate.
One of the concerns about Gonzales was his strikeout rate, but by the last month of the season, he had cut down his strikeout rate from 34.1% in the first half to just 22.6% through the final month with a 15.7% walk rate. Gonzales had one of the best second halves of all minor league hitters.
His double-play partner also had a tremendous second half of the year, that being Liover Peguero. Like Gonzales, Peguero also faced some injuries early into 2021. Through July 28th, he had just an 89 wRC+. However, things would change as he faced the second half of his campaign.
From that point onward Peguero would hit .305/.363/.523 with a .380 wOBA and 134 wRC+. Peguero also started to hit for power launching 8 home runs in 168 plate appearances. That comes out to just north of 30 homers 600 trips to the plate. Overall, he had a .219 isolated slugging percentage. He did strike out over a quarter of the time, but his 8.3% walk rate was above average. Plus, you have to consider that Peguero did all of this while facing pitchers whose average age was nearly three years older than him.
Jared Triolo was another Greensboro infield prospect who had caught fire in the second half. Through July 8th, Triolo was struggling to just a .254/.313/.378 line. He struck out 23.9% of the time while having a poor 7% walk rate. His overall contributions were summarized in his well below-average .307 wOBA and 88 wRC+.
Though from the ninth onward, Triolo got on a hot streak and didn't look back. His final 288 plate appearances of the season saw him bat .346/.414/.566 with a .422 wOBA and 160 wRC+. Even though he played in a hitter-friendly environment, he was still 60% better than the average. The most impressive part of his second half was just how good he was in terms of plate discipline. Triolo rarely struck out, decreasing his strikeout rate to just 16.5%. This also came with an increase in walk rate to 10.4%.
One of the most recently acquired prospects by the Pittsburgh Pirates also had a great second half. Connor Scott was considered the headliner of the Jacob Stallings package, and Scott struggled in the first half of the season, posting just an 86 wRC+ through July 24th.
But from July 25th through the end of the season, Scott posted an outstanding .322/.356/.557 line, .398 wOBA, and delivered a 144 wRC+. While Scott still had a poor walk rate and so-so strikeout rate, he blasted seven home runs in 195 plate appearances. He had a quality .235 isolated slugging percentage while being on pace for just over 20 home runs in a 600 plate appearance rate.
The most notable pitching prospect in the organization to have a phenomenal second half is Quinn Priester. Now Priester wasn't awful in the first half of 2021. A 3.49 ERA, 4.81 FIP, and 1.35 WHIP aren't bad considering the hitter-friendly environment. Though the walks were a bit high (10%), strikeouts were low (21.3%), and his HR/9 wasn't anything to brag about (1.1), it could have gone worse for the talented right-hander.
But Priester took off in the second half. His final 48.2 innings of 2021 saw him post just a 2.59 ERA, 3.35 FIP, and 1.10 WHIP. Priester cut down on the walks to 9.2% but saw a dramatic rise in strikeouts to 27%. He also saw a dramatic decrease in home runs. He gave up just two more for a 0.37 HR/9. His K/BB ratio sat just north of 3 at 2.92. Notably, over a third of all the earned runs he gave up came in the very last game of the season. Outside of that one start, Priester had a sub-2.00 ERA and K/BB ratio approaching 4 in the second half.
There were plenty of other Pittsburgh Pirates prospects who had great second halves, but these players had massive second halves after so-so starts to the season. It's also a nice coincidence that they're all Altoona bound next season.