Pittsburgh Pirates: Outlook Changing on Quinn Priester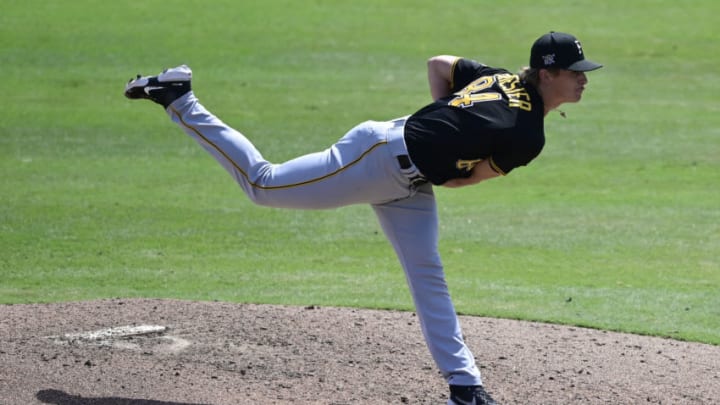 (Photo by Douglas P. DeFelice/Getty Images) /
The Pittsburgh Pirates first-round pick in 2019 has put together a solid career thus far.  So what is his outlook going forward?
Going into the 2021 season one of the biggest risers in the Pittsburgh Pirates system was right-handed pitcher Quinn Priester.   According to reports during the last offseason, Priester made great strides and really improved his repertoire. Because of this, he started to really rise up prospect rankings charts.  So how did he follow up an offseason that gained him a lot of recognition?
The Pittsburgh Pirates 2019 first-round selection had a quality 2021 campaign. In 97.2 innings, the top 100 prospect had a 3.04 ERA, 4.08 FIP, and 1.24 WHIP. Priester wasn't a strikeout machine, but his 24.1% K-rate was still above average. His 9.6% walk rate might not jump off the page, but he excelled in limiting home runs. Priester has proven to be a ground ball machine, posting a 54.7% GB% and .74 HR/9 rate.
The right-hander had a great run down the stretch, with his final 48.2 innings of the season yielding a 2.59 ERA, 3.35 FIP, and 1.11 WHIP. Although his last game was a clunker, going just 2.2 innings while surrendering 5 earned runs and 5 walks, he was one of the best pitchers in the minor leagues in the second half of the season. Those 5 earned runs accounted for over a third of all earned runs he gave up from July 23rd through the end of the season. Outside of that one game, he had an even better 1.76 ERA, 3.03 FIP, and 1.00 WHIP.
So what is weird is that the Priester slid down the rankings in this year's updated lists.  Last year the Pittsburgh Pirates righty ranked #57 overall on FanGraphs Top 100 list.  On this year's FanGraphs list Priester ranks at #102.  His Future Value (FV) did not change and remains at 50, projecting him to be a middle-of-the-rotation type arm.
The biggest difference is what the 2020 pandemic-shortened season eliminated.  There was no opportunity for scouts to go and see these players, especially the younger ones.  Getting back on the mound allowed for him to be seen but also for data on his pitches to be collected.  Simply put, FanGraphs states that Priester's repertoire is not as good as they thought in terms of pitch data:
"Scouts like Priester, pitch data does not. He's added a hard slider/cutter to his amazing-looking curveball but his fastball still doesn't miss bats, and his report reads like Aaron Sanchez's did."
This could come off as concerning, but keep in mind that he still is maintaining a 50 FV.  So what does this mean?  Well, they just aren't as bullish on his potential upside.  If anything they may feel even more comfortable calling him a middle-of-the-rotation arm.  Keep in mind top of the rotation type arms are a premium so if Priester reaches mid-rotation status it can still be viewed as a success.
Also, time will always tell for the Pittsburgh Pirates and if they have a future ace or not.  This will be a big year for Priester making the jump to the upper-level minors.  If he can show that he has added better spin rates to his pitches then he very well could be boosted back up the rankings.  If not, then look for him to continue and put up solid game stats showing that he can still be a very effective starter.