Pittsburgh Pirates Ride JT Brubaker Dominance, Bryan Reynolds HRs to Win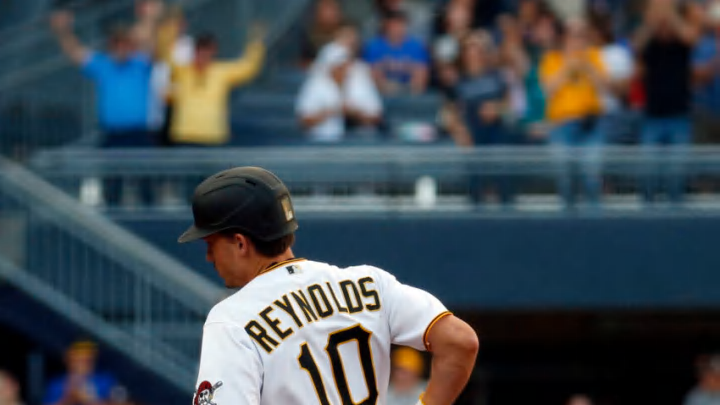 PITTSBURGH, PA - AUGUST 18: Bryan Reynolds #10 of the Pittsburgh Pirates rounds second after hitting a two run home run in the first inning against the Boston Red Sox during inter-league play at PNC Park on August 18, 2022 in Pittsburgh, Pennsylvania. (Photo by Justin K. Aller/Getty Images) /
JT Brubaker pitched 7 dominant innings and Bryan Reynolds homered twice as the Pittsburgh Pirates defeated the Boston Red Sox 8-2
Overall, the 2022 season has been a brutal one for the Pittsburgh Pirates. In recent weeks things had been as poor as ever this season. The Pirates entered played on Thursday night as losers of six in a row while being just 2-10 in their last 12 games.
Thursday night, however, the Pittsburgh Pirates were able to pick up a feel good victory. The Bucs rode a dominant starting pitching performance and a multi-home run game from their best player to an 8-2 victory over the Boston Red Sox. With the win, the Bucs are now 46-72 on the season.
JT Brubaker pitches 7 dominant innings
There have been very few positive for the Pittsburgh Pirates this season. One of the few has been the strides that JT Brubaker has made as a starting pitcher this season. Those strides continued on Thursday night when he turned in arguably the best start of his MLB career.
Brubaker pitched 7 brilliant innings against the Red Sox. He allowed just two hits, hit a batter, did not walk a batter, and struck out seven on his way to firing 7 scoreless innings. He needed just 84 pitches to get through 7 scoreless inning, throwing 70% of his pitches for strikes.
As has been the case for much of the season Brubaker had his swing-and-miss stuff working on Thursday night. He generated a game high 13 swings-and-misses, and also generated a strong 73.3% ground ball rate.
On the season, Brubaker now owns a 4.19 ERA, 3.67 FIP, 23.2% strikeout rate and has allowed just 12 home runs (0.90 HR.9) in 120.1 innings pitched across 23 starts. After struggling in his first start of the season and being brunt by horrendous outfield defense in his second start of the season, Brubaker owns a 3.83 ERA, 23.3% strikeout rate, 7.8% walk rate and a 0.83 HR/9 rate in 108 innings pitched across his last 21 starts. Brubaker looks like a pitcher who is rounding into a solid MLB starting pitcher.
Big night for Bryan Reynolds
Hearing people talk about the season that Bryan Reynolds is putting together is wild. By his standards, it has been a bit of a poor season. That said, his standards are higher than almost every other hitter in baseball.
Reynolds got the scoring started wit ha 2-run home run in the bottom of the 1st inning. In his second at-bat Reynolds singled, which helped setup a 2-run double by Ben Gamel in the 3rd inning. Reynolds then launched his second 2-run home run of the night in the bottom of the 6th inning, making the score 6-0.
Reynolds finished the night 3-for-4 with his two home runs, three runs scored and four RBI. In what has been a "down" season for Reynolds, he is now hitting for a .265/.350/.479 slash line to go with a 131 wRC+. That would be a career best season for most hitters. Just goes to show the how good of a hitter Reynolds is.
A milestone night at PNC Park
The second home run Reynolds hit was the 3,000th home run in the history of PNC Park. Home run number 3,000 in PNC Park history came on the day that Roberto Clemente, who finished his MLB career with exactly 3,000 hits, would have turned 88-years-old. Oh, the home run also went over the Clemente Wall. The baseball gods work in funny ways some times.
Pirates play with fire in the 8th inning
Zach Thompson, who has had a very poor season out of the starting rotation, made his second relief appearance of the season. Thompson took over on the mound with the Pittsburgh Pirates lead 8-0 in the 8th inning and quickly made things a lot more uncomfortable than they needed to be.
After allowing three hits and walking a batter, Thompson was lifted for Manny Bañuelos. Bañuelos allowed a sacrifice fly and walked a batter before recording a strikeout with the bases loaded to end the inning with the Pirates ahead 8-2.
Thompson has now pitched 94.2 innings pitched this season. He owns a 5.51 ERA, 5.33 FIP, 1.62 HR/9, and he's walked a porous 9.2% of batters faced. Thompson has been one of the worst pitchers in baseball this season when it comes to generating chases and whiffs, with his 15.7% strikeout rate being an example of this. It would not be a surprise to see Thompson taken off the 40-man roster this offseason.
Friday night the Pittsburgh Pirates will welcome the Cincinnati Reds to town as they kickoff a three-game weekend series. Bryse Wilson (5.93 ERA, 5.19 FIP) is slated to start for the Pirates while the Reds plan to send righty Graham Ashcraft (3.96 ERA, 4.15 FIP) to the mound. First pitch from PNC Park is scheduled for 7:05 PM ET.