Pittsburgh Pirates: Bullpen Melts Down in 9-5 Loss Against the Reds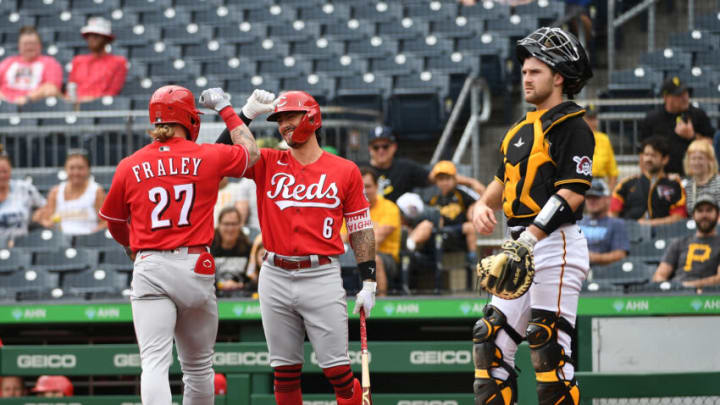 PITTSBURGH, PA - AUGUST 21: Jake Fraley #27 of the Cincinnati Reds celebrates with Jonathan India #6 after hitting a solo home run in the first inning during the game against the Pittsburgh Pirates at PNC Park on August 21, 2022 in Pittsburgh, Pennsylvania. (Photo by Justin Berl/Getty Images) /
Sunday afternoon the Pittsburgh Pirates and Cincinnati Reds played the rubber match of their weekend series at PNC Park as the two teams battled to stay out of the basement in the National League Central
After a Sunday morning rainstorm moved out of the area, the Pittsburgh Pirates hosted the Cincinnati Reds at PNC Park on Sunday afternoon. After the Pirates walked the Reds off on Friday night and the Reds blew the Pirates out on Saturday night, each team was in search of a series victory.
Unfortunately, the Pittsburgh Pirates came up short in Sunday afternoon's rubber match. With the loss, the Pirates are now 47-74 on the season, putting them 2.0 games behind the Reds in the battle for fourth place in the division.
At one point this season the Reds were 3-22. They were off to one of the worst starts in MLB history and appeared to be on their way to a historically poor season. Well, here we are, in late August with the Pirates now two full games behind the Reds in the standings as they tailspin toward another 100 loss season.
Zach Thompson's struggles with the long ball continue
Outside of a strong month of May, the 2022 season has been a poor one for Pirate righty Zach Thompson. Sunday afternoon his struggles continued as Thompson's spot in the rotation could, and quite honestly should, be in jeopardy.
Thompson pitched 5 innings, allowing 3 runs. While he allowed just 3 runs, he gave up two more home runs and has now allowed 19 on the season for a woeful 1.79 HR/9 on the season. Red batters also flooded the bases throughout Thompson's 5 innings of work as he allowed a total of eight hits while walking three batters, if not for a pair of inning-ending double play balls things could have been much worse for Thompson.
This season Thompson has now pitched 99.2 innings, posting a 5.40 ERA and a 5.48 FIP. He's walked 9.3% of batters faced and struck out just 16.0% of batters faced which is one of the worst strikeout rates in all of baseball. Thompson has struggled to miss bats and get batters to chase his pitches all season. This has been a huge factor in his struggles with the long ball. Moving forward, there is no reason for Thompson to continue to make starts.
Pirates score twice in the 1st inning, still get snakebitten, and then Mike Minor settles in
Cincinnati starting pitcher Mike Minor entered Sunday's start with a 6.31 ERA. To start the bottom of the 1st inning Kevin Newman singled off of Minor, Michael Chavis had a one-out single, and then Ben Gamel followed with a run-scoring single.
Following Gamel's single, the red hot Rodolfo Castro doubled down the left field line. Castro's double scored Chavis to make the score 2-1 Pirates. With two runners in scoring position and just one out the Pittsburgh Pirates appeared to have Minor on the ropes early.
Greg Allen hit a line drive that would be snagged by shortstop Matt Reynolds who then fired the ball to third base to double up Gamel and end the inning. When the ball left Allen's bat it looked like the Pirates were on their way to leading 4-1. Instead, Minor was out of the inning and he then got into a groove until the 6th inning which we will get to later.
Reds appear to pull away in the 6th inning
Lefty Manny Bañuelos, who had pitched extremely well of late, took the mound in the 6th inning with the Pirates trialing 3-2. Unfortunately, Bañuelos would turn in his first poor outing since his first outing with the Bucs as the Reds appeared to have pulled away.
Bañuelos issued a pair of walks to start the inning and this was the beginning of the wheels coming off the cart. Following a sacrifice bunt, Bañuelos allowed a pair of singles and a triple. When the dust settled, the Reds had taken a 7-2 lead.
Pirate offense rallies in the 6th inning
After the Reds put up a five spot in the top of the 6th inning it appeared the Pittsburgh Pirates were in a lot of trouble. To their credit, the Bucs bats were able to put together a rally in the bottom half of the inning to get back into the game.
Gamel reached on a bunt single to start the inning and Allen reached on a one-out infield single that easily could have been ruled an error. After Kevin Padlo popped out, Tucupita Marcano hit a two-run double and then scored on a Jason Delay base hit. Kevin Newman then struck out to end the inning, but the Pirates had cut the deficit to 7-5 to get back into the game.
Derek Shelton continues to leave relievers in the game too long
Throughout the season one of the biggest issues for Derek Shelton has been leaving one inning relievers in the game too long. This happened again on Sunday afternoon when Shelton tried to squeeze a second inning of work out of Colin Holderman.
After Holderman had a clean 7th inning, he got a pop out to start the 8th inning. Holderman then issued a walk, hit a batter, and allowed a run-scoring hit before he was lifted for lefty Cam Vieaux. Veiaux would clean the inning up, but not before allowing a run-scoring hit to Nick Senzel that made the score 9-5 Reds.
Too many times this season Shelton has been burnt by trying to squeeze a second inning out of relievers such as Holderman, Duane Underwood Jr., Wild Crowe, and David Bednar who are most effective as one inning guys. Now, some of this can be chalked up to Shelton having to work with a pretty lackluster bullpen and a starting staff that often times fails to get deep into games. That said, this is an area Shelton needs to improve upon next season.
Monday night the Pittsburgh Pirates will begin a three-game series against the defending World Series Champion Atlanta Braves. Roansy Contreras (4.02 ERA, 4.82 FIP) is slated to start for the Pirates while the Braves plan to send veteran righty Jake Odorizzi (4.15 ERA, 4.30 FIP) to the mound. First pitch from PNC Park is scheduled for 7:05 PM ET.