Pittsburgh Pirates Should Claim Recently DFA'd Relief Pitcher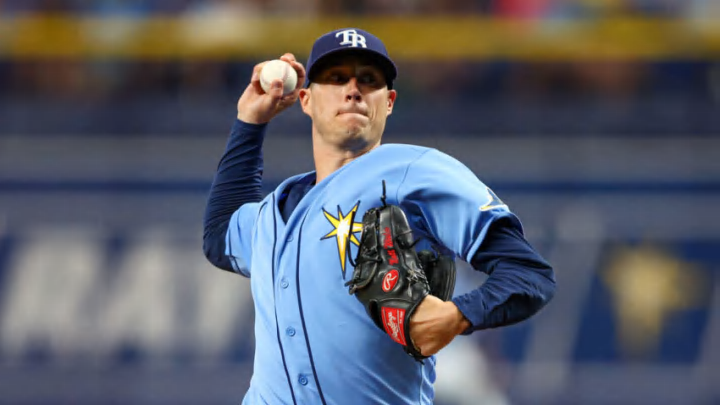 Jun 28, 2022; St. Petersburg, Florida, USA; Tampa Bay Rays relief pitcher Matt Wisler (37) throws pitch against the Milwaukee Brewers in the sixth inning at Tropicana Field. Mandatory Credit: Nathan Ray Seebeck-USA TODAY Sports /
After being designated for assignment, the Pittsburgh Pirates should look to add reliever Matt Wisler with the intention of re-signing the free agent to be this offseason
In a move that came as a bit of a surprise, the Tampa Bay Rays designated relief pitcher Matt Wisler for assignment on Monday. With Wisler now available, the Pittsburgh Pirates should look to claim him off waivers.
While there could be some red flags with some of his peripherals, overall, Wisler has had a strong season for the Rays. Wisler has posted a 2.25 ERA, 4.25 FIP, 8.0% walk rate and a 19.9% strikeout rate in 44 innings pitched.
The 29-year-old righty has done as nice job limiting hard contact, as his opposing hard hit rate of 30.7% and average opposing exit velocity of 87.5 MPH are both better than league average. However, opposing batters have an 11.8% barrel rate is certainly a red flag. As is his .198 batting average on balls in play.
For reference, an average BAbip is .300. When a pitcher owns a BAbip as low as Wisler's, it indicates that they have benefitted from some good luck and/or defense. That said, limiting hard contact the way Wisler does can make a low BAbip more sustainable.
Wisler is a pitcher who appears to be finding his groove as a MLB reliever. While he owns lifetime 4.59 ERA and 4.51 FIP, he is currently on the best three-year stretch of his career. He posted a 3.70 ERA, 2.96 FIP, 5.6% walk rate and a 31.8% strikeout rate last season. In 2020, he posted a 1.07 ERA and a 3.35 FIP. While his 13.1% walk rate in 2020 was much higher than you'd like to see, his 32.9% strikeout rate helped offset that. His improved results have also come with an increase in slider usage, which is likely not a coincidence.
Wisler is set to become a free agent after the season. However, if the Pittsburgh Pirates were to claim him off waivers this could put them in a strong positions to be able to re-sign him in the offseason. Part of looking to add Wisler off waivers should be with the intention of working out a contract with him in free agency this offseason.
Wisler would immediately become one of the best arms in the Pirate bullpen. To be honest, with David Bednar currently on the injured list he might be the best reliever in the Pirate 'pen. When at full strength, Wisler would, at worst, be the team's third best reliever behind Bednar and Wil Crowe. This is one bullpen waiver claim that Ben Cherington should be all over.