Pittsburgh Pirates Prospect Season in Review: Abrahan Gutierrez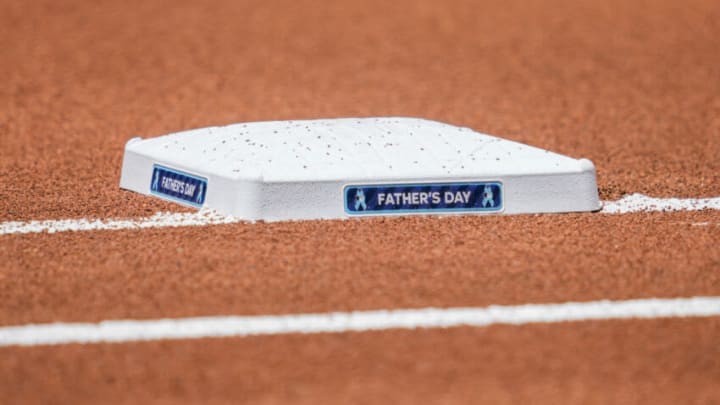 (Photo by Mark Blinch/Getty Images) /
Pittsburgh Pirates catching prospect Abrahan Gutierrez added to his positional flexibility while putting together a good season at the plate in 2022
When Ben Cherington was hired as general manager of the Pittsburgh Pirates he inherited a strong farm system. However, one position in the Pirate farm system that was lacking was the catcher position.
Cherington would begin to address the catcher position in the Pirate farm system. He did this via trades and the draft. One of the catching prospects that Cherington has traded for since being hired in November 2019 is Abrahan Gutierrez.
Gutierrez was acquired from the Philadelphia Phillies in July 2021 in exchange for left-handed minor league pitcher Braeden Ogle. Gutierrez is a player that Cherington and his people were obviously very high on, as they also targeted him in trade talks with the Phillies surrounding starting pitcher Tyler Anderson.
During the 2022 season, Gutierrez accumulated 441 plate appearances in 108 games played. He spent the entire season with the High-A Greensboro Grasshoppers. Gutierrez hit for a .257/.356/.411 slash line with a 113 wRC+.
While Gutierrez was an above average hitter in 2022 it was a step back from the 2022 season. His 113 wRC+ was a step down from 2021. While still strong, his 11.8% walk rate was also a decrease, while his strikeout rate jumped to a career worst 25.4%.
In addition to catching, Gutierrez also played first base and served as the designated hitter at times for the Grasshoppers. This adds to his flexibility and value, something that could benefit him greatly due to the emergence of Endy Rodriguez and Henry Davis.
This offseason Gutierrez will be Rule 5 Draft eligible. While the Pittsburgh Pirates may discuss it, odds are, he will not garner a 40-man roster spot. Most likely, he will slide through the Rule 5 Draft without being selected.
When the 2023 season begins Gutierrez, assuming he gets through the Rule 5 Draft, will likely be at Double-A Altoona. Gutierrez should be the primary catcher for the Curve as he looks to take another step forward with another strong offensive campaign.