Pittsburgh Pirates: Potential Future Top 100 Prospects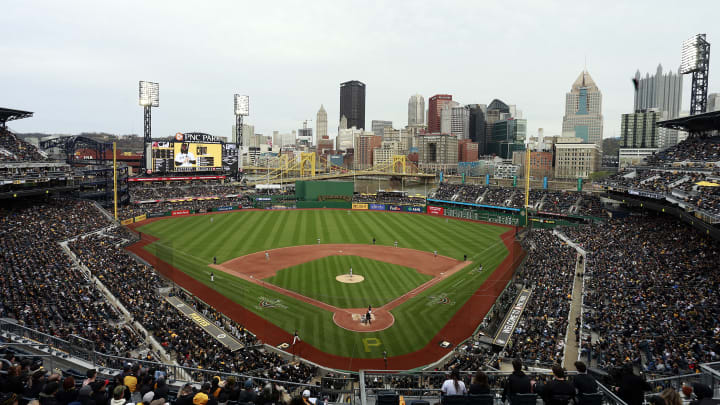 Chicago White Sox v Pittsburgh Pirates / Justin K. Aller/GettyImages
Jun-Seok Shim
It doesn't take a scout to see why Jun-Seok Shim may eventually become a top-100 prospect. Not only does he have the potential to appear on top 100 lists across the internet, but he also has the potential to be the Pirates' #1 pitching prospect in the near future. The Pirates' top international signee from the 2022-2023 off-season, Shim should be a fun player to watch throughout the next few seasons.
Ranked as MLB Pipeline's tenth-best international prospect from this past season's class, Shim had the option to enter the Korean Baseball Organization's draft. If he did, he was projected to be one of, if not the top pitcher available. Instead, he chose to go to the United States and lock on with a Major League Baseball team. The Pirates were able to ink the hard-throwing right-hander to a $750,000 signing bonus.
So what made Shim one of Korea's best up-and-coming talents? Well, for one, he's already topping out at 100 MPH at just 18-19 years old. Though he can reel back and hit triple-digits, he typically sits in the 94-96 MPH range, which is still highly impressive for a teenager nonetheless. Shim also has a strong 12-6 curveball. He has a good feel for the pitch, which he throws with a high spin rate. He also throws a slider and change-up. Both right now sit at a below-average level but could definitely develop into two more average offerings. That gives him four pitches that he could rely on.
Although Shim might not be the next Greg Maddux, his command is more developed than your typical teenage flamethrower. Shim has both plus athleticism and good mechanics. This makes his delivery repeatable and helps his command play at a good level.
In my unprofessional opinion, Shim is the closest to making a top 100 list. Shim is a tad older than most of the names we'll look at today. He's already turned 19 and will more than likely at least make his Bradenton debut sometime later this season, even if it's just a brief late-season cameo.
Plus, how many pitching prospects are there who throw in the upper-90s with good secondary offerings, have plus athleticism, clean mechanics, and project to have average to above-average command, and aren't on a top 100 list? Is it too bold to say you may even start to see him on top 100 lists as soon as early next year?