Pittsburgh Pirates: Potential Future Top 100 Prospects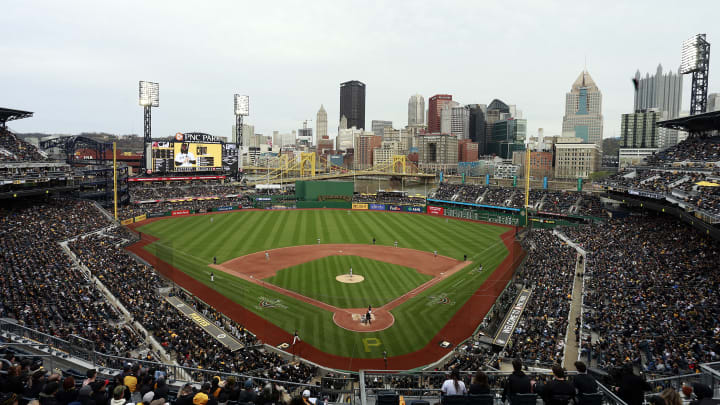 Chicago White Sox v Pittsburgh Pirates / Justin K. Aller/GettyImages
Yordany De Los Santos
Yordany De Los Santos was the Pirates' big catch of their 2021-2022 international signing class. De Los Santos has already started to see a slight improvement in his stock. FanGraphs bumped him up from a 40+ FV prospect to a 45 FV prospect in their pre-2023 rankings. MLB Pipeline included him as the Pirates' no. 29th best prospect after not placing him in their 2022 top 30 prospect list.
De Los Santos wasn't as productive as Plaz at the DSL but still turned in decent numbers. In 234 plate appearances, De Los Santos slashed .258/.372/.363 with a .368 wOBA and 106 wRC+. De Los Santos struck out just under 20% of the time with a 19.2% strikeout rate but also walked at a strong 13.7% rate. Power was a weak point in De Los Santos' stats, as he only had one home run and an ISO clocking in just over .100 at .105. The infield prospect had a 131 wRC+ through his final 134 plate appearances as well.
De Los Santos has a really high offensive ceiling. FanGraphs loves him, based on Trackman and Hawkeye data they gathered. They put both his raw power and game power at a 60-grade. Though his other tools sit at an average to below average level, at least right now. FanGraphs does say that his hit tool is a "hair south of average," but at 18, he's got plenty of time to improve that part of his game.
There's concern about his long-term position. Although the Pittsburgh Pirates signed him as a shortstop, and he is currently an athletic infielder, he may have to move off of short after he fills out his 6'1" frame. He doesn't project to be a plus runner, which could limit his range. The Pirates did see him make some improvements to his defensive game, and he has the arm to stick at shortstop. He'll be given every chance possible to remain at shortstop, though don't be surprised if the Pirates have to move him to third base long-term in the future.
Still, you're looking at a player who has the chance to be an average defensive shortstop but with a ton of raw power and offensive upside. If De Los Santos can continue to make defensive improvements and make his hit tool average or better, this could be a guy with four average to well above-average tools at a premium position.