Pittsburgh Pirates Rumors: Red Sox call on a Pirate Arm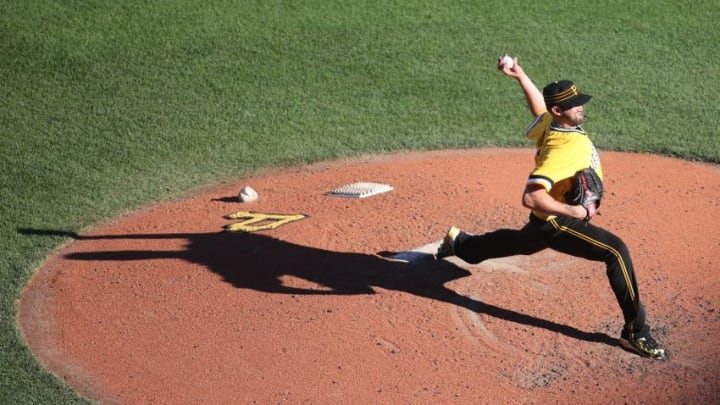 Mandatory Credit: Charles LeClaire-USA TODAY Sports /
The Pittsburgh Pirates are in an unfamiliar spot this June, as they are under .500 and find themselves out of the NL Central race by 14 games.  With that, the trade deadline is a little over a month away and rumors are starting to swirl.
According to Michael Silverman of the Boston Herald, the Red Sox have already been making phone calls for rotation help.  One team they have called is the Pittsburgh Pirates.  According to Silverman's article:
""They have been scouting and inquiring about virtually every starter on the market. According to multiple baseball sources, the Sox have not shied away from asking about a few of the most elite names in the game — Jose Fernandez of the Marlins, Gerrit Cole of the Pirates are two such prime talents — even if the teams have no plans of moving that player. " Michael Silverman of the Boston Herald"
Apparently the two names that were asked for were Xander Bogaerts and Mookie Betts.  I assume the Pirates were the ones who asked for Bogaerts, as they really have nowhere for Betts. Betts is an excellent player, but is a second baseman and outfielder, a position that the Pirates do not currently have holes at either position.
Bogaerts would be a player of interest, even with Jordy Mercer having a fine season.  Mercer is playing decent defense and is hitting a solid .262 average and has a .711 OPS.  Those are not bad numbers, but they are just okay.  When you hear the Pirates described you here this: "The outfield is set, they have their three best players there.  Cervelli is one of the better catchers in the NL.  Kang is a really good third baseman.  Josh Harrison plays great defense and will hit close to .300, and Jordy Mercer is good enough."  
What stands out, Mercer is good enough.  Not saying that he is a bad player, but he is replaceable. This maybe why the Pirates asked for Bogaerts in a deal. If there was one position to upgrade on this team, it would be the shortstop position.  Mercer is what he is, a very average player all around.  Bogaerts is trending more as an all-star caliber player.  He is leading the American League in hitting as of now.  With all of that being said, the Red Sox obviously balked on the asking price, for obvious reasons, as Bogaerts is a a big part of the Red Sox success this season.  
More from Rum Bunter
The other consideration is Neal Huntington may have known Bogaerts was untouchable and asked for him back knowing that the Red Sox would get his message that Cole is not up for trade. This is a tactic used by general managers all across baseball.  Rather than come out and hang up on someone or tell them no, they ask for something that they know is not realistic if they feel insulted by the offer or have no interest in a deal.
The fact is, the Pittsburgh Pirates general manager likely would listen to offers on Cole.  Most general managers are willing to listen on any player.  The asking price shows that the Pirates would want a star, that is also a controllable player, back in return for Cole, who has a similar profile.  One point of interest is that Cole is represented by Scott Boras.  With that, the Pirates know that it will be hard to extend him beyond his arbitration years.  If a deal that blew Huntington away came across his desk, he would likely consider it.  
Related Story: Pirates Call up a Catcher
The Red Sox have one of the best farm systems in all of baseball.  With that, the Sox would be one of the few organizations that could offer a package of players that would blow Huntington away. However, this rumor is most likely not a big deal.  As said earlier, it would take a sizable package to get rid of Cole, and even with a good return it would be hard to move a young, controllable top flight arm.  This is most likely just routine trade deadline calls by the Red Sox, calling around trying to figure out who is available and who is not, and for what price.  This is not a rumor to look to far into. It is still an interesting note that the Bucs do receive calls on a caliber player like Cole, even if they are not necessarily available.