What Can Be Taken From Andrew McCutchen's Strong Finish?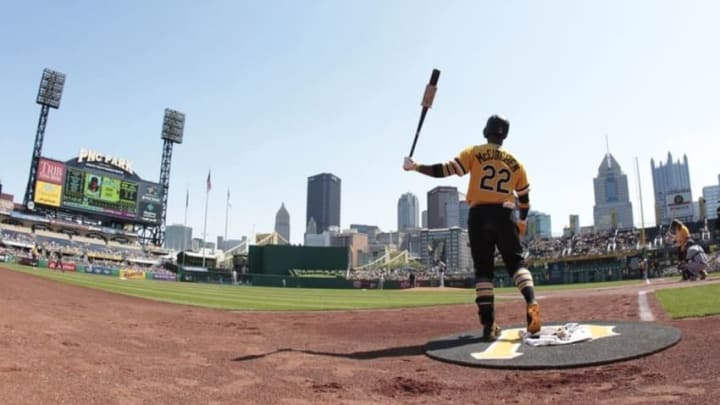 Mandatory Credit: Charles LeClaire-USA TODAY Sports /
After struggling for most of the 2016 season, Andrew McCutchen has been one of the Pittsburgh Pirates' best hitters since August.
In 2016 Andrew McCutchen has struggled like never before. The Pittsburgh Pirates' super star has had the worst season of his career and his struggles have come out of seemingly nowhere. Entering the 2016 season, there were no indications that McCutchen would struggle so much.
Through the first seven seasons of his Major League career Andrew McCutchen had established himself as one of the absolute best players in all of Major League Baseball. Entering the 2016 season McCutchen owned a liftetime .298 batting average, .388 on-base percentage, .382 wOBA, 144 wRC+, and a 40.2 WAR. McCutchen's 40.2 WAR since he debuted on June 4th, 2009, was good for second best in all of baseball behind Miguel Cabrera.
However, in 2016 Andrew McCutchen has been nowhere near this player. So far this season McCutchen owns a .252/.334/.426/.760 slash line, .327 wOBA, 105 wRC+, and a 1.1 WAR. All of these numbers are career lows for McCutchen. Furthermore, his 10.3 percent walk rate is a career low while his 21.7 percent strikeout rate is by far a career high.
More from Rum Bunter
While McCutchen's overall numbers in 2016 do not look good, it has been a tale of two seasons for McCutchen. Through the first four months of the 2016 season Andrew McCutchen was abysmal. In fact, it got so bad that I, along with many others, were calling for his benching.
On August 1st Andrew McCutchen was slashing .241/.311/.408/.719 with a .308 wOBA and a wRC+ of 92. Furthermore, McCutchen's walk rate was just 8.1 percent while his strikeout rate was a very alarming 24.8 percent.
Since the calendar turned to August though, McCutchen has been a completely different player. Since August 5th McCutchen is slashing .280/.385/.472/.857 with a .369 wOBA, 133 wRC+, an ISO of .193, a 15.1 percent walk rate, and a 14.6 percent strikeout rate. McCutchen is also averaging a home run once every 24 plate appearances during this stretch, after averaging one just once every 29 plate appearances through the season's first four months.
So the question becomes what has changed with McCutchen the past two months? And what, if anything, does it say about his projected performance for the 2017 season? Well, let's take a look at that shall we?
Next: Pirates Set Rotation For Series With Brewers
The most encouraging sign from Andrew McCutchen the past two months is his increased walk rate and decreased strikeout rate. Being an extremely patient hitter with an elite contact rate is one of the things McCutchen has always been known for in his Major League career. And the past two months McCutchen has been this hitter once again.
At the end of July Andrew McCutchen had a 22.2 percent line drive rate and a 33.1 percent hard contact rate. Since August 5th his line drive rate is still 22.2 percent, but since August 5th he has experienced a big spike in hard contact rate. Since August 5th McCutchen's hard contact rate is 41.5 percent.
Aug 23, 2016; Pittsburgh, PA, USA; Pittsburgh Pirates center fielder Andrew McCutchen (22) runs the bases on his way to scoring a run against the Houston Astros during the first inning at PNC Park. Mandatory Credit: Charles LeClaire-USA TODAY Sports /
Earlier in the season Andrew McCutchen was reportedly dealing with a wrist issue. Despite this, McCutchen played through it. However, a wrist injury is arguably the worst injury a hitter can get. It can have a negative impact on your bat grip, your bat speed, your batting stance, and your all-around ability to hit.
While McCutchen's wrist injury was never confirmed, as the season progresses I am believing more and more that he was indeed hurt. The results McCutchen has had at the plate point to something bothering him the first four months of the season. Personally, I am starting to believe that it was indeed his wrist.
Another encouraging sign with McCutchen the past two months is that he has looked more athletic and healthier both on defense and running the bases. Andrew McCutchen has stolen just six bases this season, but four of them have come since August 5th. McCutchen has also played much better defense in center field during this time.
Last season McCutchen had a knee issue that hampered him the first five or six weeks of the season. It is possible that this knee flared up again for McCutchen during the first four months of the season. Because, without a doubt, something was bothering Andrew McCutchen through July.
Personally, I believe Andrew McCutchen's strong finish to the 2016 season is a great sign for 2017. Andrew McCutchen has experienced an increased contact rate, hard contact rate, walk rate, and a decrease in strikeouts the past two months. McCutchen has also looked the healthiest and most athletic he has all season. I truly believe that some sort of injury, or injuries, was holding McCutchen back the first four months of 2016. Now, I believe McCutchen is over these issues. And due to this, I am expecting a big bounce back season from McCutchen in 2017.
*- All stats and data via FanGraphs