Pittsburgh Pirates Payroll Payroll Comparison to MLB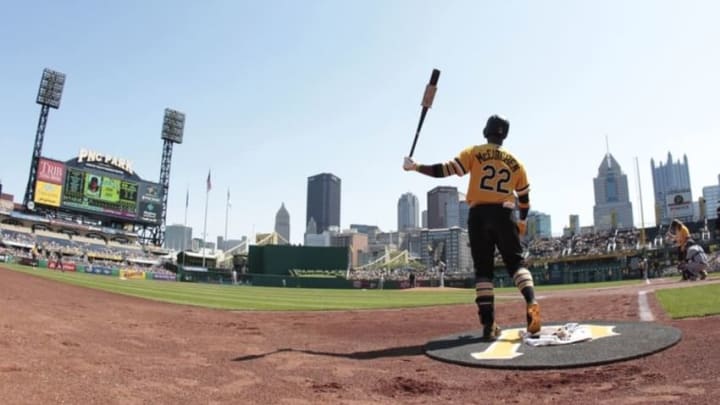 Mandatory Credit: Charles LeClaire-USA TODAY Sports /
The Pittsburgh Pirates are a small market team.  With that fans on the Pirates see a small payroll every year season when compared to the rest of the league.
At the end of the season the Pittsburgh Pirates broke the 100 million dollar cusp for their team's payroll.  This was the first time ever.  They entered the year right under at 99 million.  Many fans were not happy as they thought the Pittsburgh Pirates should have been well over the 100 million dollar line.  They argued that the Bucs had three straight playoffs seasons of extra revenue and it was time to invest it back into the team.  Instead, the Pittsburgh Pirates used their money strategically and did not make any significant signings.
Then throughout the season the Pittsburgh Pirates made several questionable moves after falling out of contention.  They first traded Jon Niese back to the Mets.  This was not necessarily a bad trade, but one to relieve them of his salary while getting rid of a poor pitcher.  They then dealt Francisco Liriano, who was owed 13 million dollars for the 2017 season.  They also were relieved of his remaining 4.475 million dollars for the remaining money on his contract in 2016.  Many criticized them for this as they gave up two prospects in the deal also.  In a way rightfully so, once again the decision was made because of payroll.
However, with all this being said the Bucs ended up over 100 million dollars with their payroll at the end of last year.  This was exactly what a lot of fans were waiting for.  Although they are now over 100 million dollars, it does not mean much.  They still ranked toward the bottom of the league in payroll.  Here is the numbers in order:
More from Rum Bunter
Los Angeles Dodgers: $279,107,794
New York Yankees: $227,365,376
Boston Red Sox: $215,066,336
Detroit Tigers: $205,894,085
Chicago Cubs: $186,402,394
San Francisco Giants: $183,027,044
Los Angeles Angels of Anaheim: $180,743,007
Texas Rangers: $168,420,990
St. Louis Cardinals: $166,966,170
Washington Nationals: $163,605,722
Toronto Blue Jays:$159,402,279
Baltimore Orioles: $156,868,519
New York Mets: $156,642,515
Seattle Mariners: $154,718,253
Kansas City Royals: $145,170,358
Chicago White Soxs: $141,208,186
San Diego Padres:$127,681,702
Atlanta Braves: $122,138,633
Colorado Rockies: $120,561,480
Philadelphia Phillies: $117,259,109
Cleveland Indians: $114,707,868
Cincinnati Reds: $114,297,733
Houston Astros: $112,738,542
Minnesota Twins: $106,235,357
Pittsburgh Pirates: $105,866,836
Arizona Diamondbacks: $103,372,186
Oakland Athletics: $99,914,388
Miami Marlins: $80,461,206
Milwaukee Brewers: $75,244,791
Tampa Bay Rays: $71,332,249
The Pittsburgh Pirates currently rank 24th in payroll. They could actually unload more as they could cut Jeff Locke and others. This is not where many fans want to see them.  However, after cutting a lot of payroll over the last season the Bucs are in a good spot to add more payroll for the next season.  They very well could and should be in the top 20 next season.  Between signings, extensions, and trades they have the room to add payroll and help get this team back in the playoffs.