World Series 2016 Reflection: Major League Baseball Wins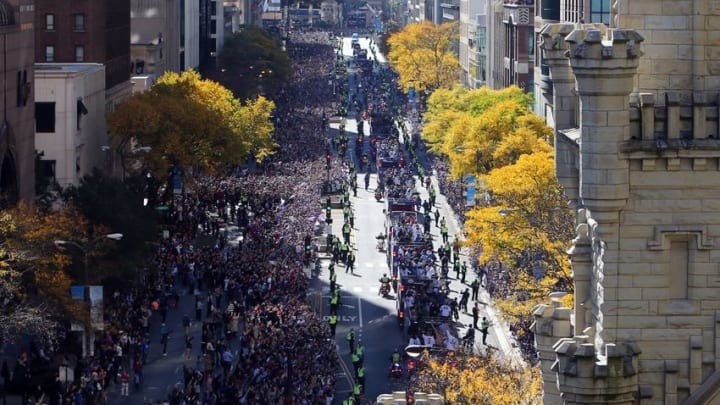 Mandatory Credit: Jerry Lai-USA TODAY Sports /
"It Happened". That's all the headlines needed to say. There was no need to write an article. No need to give an analysis. No need for anything other than a cover with a picture. The Chicago Cubs are World Series Champions.
What in the hell has this world come to? Gone are the memories of Leon Durham booting that ground ball in the 1984 ALCS. Gone forever is the picture of a black cat walking past the Shea Stadium on deck circle as Ron Santo watched in horror. Farewell is the "loveable losers" moniker that was long synonymous with the Chicago Cubs. Gone is Steve Bartman's reach, Moises Alou's frustration, Alex Gonzalez's error, and Dusty Baker's mismanagement of the Chicago pitching staff. Now to the Chicago Cubs and their fans, congratulations. You deserve this, and there isn't a lot more I can say about the joy that the North Side of Chicago is still basking in that has not been said already. To retract my above statements, those painful Cubbie memories mentioned above are not gone, but they don't matter anymore.
To me, as a baseball fan, what is as important as anything else is that the notion that baseball is a dying sport. It is dead along with William Sianis and his damn goat. As a neutral, what is more important than anything to me is that, at least temporarily, the notion that baseball is a dying sport is dead.
I've heard it a lot. "Baseball is so boring." "My God, will this game ever end?" "Hockey players are real men, unlike baseball players." "Only old people like baseball anymore." Well, the 2016 MLB Playoffs proved all of that to be false.
More from Rum Bunter
I had been thinking about the prospect of a Cubs-Indians World Series since May. The idea excited me, because, for the past few years, I have been concerned about the game of baseball. I love the sport, but I felt like people like me were becoming fewer and fewer as the years went on. The ratings of the 2014 and 2015 World Series were a cause of concern, as both were among the five lowest rated of all time. While I never felt baseball was in any trouble financially, as ticket sales have always been just fine, the continuing downward spiral of interest, especially among my age demographic (I am 18), was something that I thought about more than I should have over the past few years.
Whenever it became established that my Pirates had a slim-to-none chance to get to their first Fall Classic, the prospect of a Cubs-Tribe match up excited me. Just imagining the two greatest title droughts in Major League Baseball- 1908 vs. 1948, clashing to see which curse would continue, made me smile. The thought of Chicago getting to the fall classic, especially considering the massive following they have throughout the Midwest region, sounded like rating dynamite. Although Cleveland is a small market, they are a rabid sports town, and I had no doubt that, especially considering the Cavs title win, plenty of outsiders would get behind Cleveland in the effort to become the new "City of Champions." So, even though the Bucs still theoretically had a chance to get to the playoffs in August, I don't fault myself for thinking about what was "best for business."
I discussed this with two of my friends. One of them did not feel that a Cubs-Tribe series would not draw much better than either of the ones involving the Kansas City Royals, while my other friend believed Cleveland not being in a large market would stunt the intrigue a little bit. Both the Cubs and the Tribe were romping through their divisions, so the possibility of the match made in heaven was more than a pipe dream. That was until late September, when two of Cleveland's best starting pitchers, Danny Salazar and Carlos Carrasco, were lost indefinitely with injuries. Here is where the Boston Red Sox enter this equation.
At Waynesburg University, there is a campus television show known as "Plead Your Case".  It is a sports talk show that focuses on hot takes of hot topics in college and professional sports. On the first episode, one of the subjects involved baseball. During the discussion, one of the panelists stated that he felt a Cubs-Red Sox World Series would be great for the game. I thought about this a lot over the next few weeks, and here is what I had to say about a potential Cubs-Red Sox showdown in my MLB Playoff Preview;
Next: Find a Trade Partner for Cutch
"For most of this season, I thought that it would be in baseball's best interest to have a Cubs-Indians fall classic (1908 vs. 1948). But the more I think about it, the more I would love to see Cubs-Red Sox. The Cubs would be a big-time draw in the World Series regardless of who they played because of the whole "100 years of misery" thing. But Boston is arguably the most rabid baseball town in history, with one of the most historic franchises in history, and both the Cubs and Red Sox have the two oldest ballparks in history. It's perfect. A dream for the business of Major League Baseball. And I think there's a good chance it happens."
We have no idea what would have happened had the Red Sox won their 12th American League pennant. It's hard to imagine a Boston-Chicago match-up out doing what this World Series accomplished. Granted, the quality of play was not always great. Of the seven series games, we saw three blowouts and a pretty dull 5-1 Chicago victory in game two. That said, it was a back-and-forth battle throughout with both teams threatening to take control of the whole damn thing. And then we have the ratings.
Oh, those ratings. Those excellent ratings. It started with a bang, as Game 1 (a 6-0 Cleveland victory), had 19.368 Million viewers. This was the highest amount for a series opener since 2009. Game 2 saw regression, as "only" 17.395 M people tuned in. Still, it was the highest-rated Game 2 since 2009, when two large media markets- New York and Philadelphia, were the cities involved in that Fall Classic. Game 3 did well, as 19.384 M people watched Wrigley Field's first series contest in 71 years.  It was the highest-rated Game 3, also since 2009. Things slowed down in Game 4. "Only" 16.705 M people tuned in for it. This was continuing the pattern of most watched *inserts game # here* since 2009. After Game 4, business started to pick up.
Game 5 was on a Sunday. Amazingly, Sunday Night Football is also on a Sunday. Usually, this does not go well for MLB. But this Sunday was different. For the just the 3rd time since 2010, Baseball prevailed over the No Fun League. The World Series drew a 15.3 rating, while Dak Prescott drew an 11.6. The Cubs won Game 5, 3-2, and the series was headed back to Cleveland. Game 6 was a slight drop off from Game 5. The viewing for game six was 23.396 million, which was the highest for a Game 6 since 2007. The Cubs raised the W high again, and now it was time for Game 7.
It was predictable that the ratings for the winner-take-all affair would be through the roof. It was not predictable that game seven would be the greatest baseball game that Joseph Smeltzer's lifetime.
We all know what happens. Cubs get an early led and are four outs away from breaking the curse. Joe Maddon gets greedy and puts in Aroldis Chapman before the 9th inning, while still nursing a 3-run lead. Tyler Naquin doubles, Raja Davis homers, Tribe ties it at 6. The game goes to extras, has a short rain delay, and when it resumes, the Cubbies score twice. Carl Edwards Jr. comes in for the save, gives up a run, and Mike Montgomery gets Michael Martinez to ground out, 5-3, for the last out. Cubs win! Cubs Win! The Cubs Win!, etc….
The way Game 7 picked up after a pretty dull 7 1/2 innings was surprising. The television rating was not. 40.045 M. It was the highest rated sporting event since Super Bowl 50 (yes, it was even greater than the almighty Warriors-Cavs Game 7), and the highest rated baseball telecast since Gene Larkin drove in Dan Gladden to give the Minnesota Twins their second world championship in Game 7 of the 1991 World Series.
Related Story: Qualifying Offers in the MLB
As a Pirates fan, I understand why people would have a problem with the Cubs being the champions. Sure I do. Both the Buccos and Cubbies have been in the same division since the National League East formed in 1969. Through most of that time, neither team has thought of the other as a "rival". However, the past two years have been a little different. The combination of both franchises being successful, as well as Chris Coghlan breaking Jung-Ho Kang's leg, and multiple heated on-field exchanges between Sean Rodriguez and the Cubs coaching staff have led to  hatred in the Steel City for the artists formally known as the "loveable losers." It can be very iritating to see an enemy reach the holy grail. Is frustrating for Pirates fans.
However, I do not share in this frustration. Does the fact that I was not upset in any way when Kris Bryant fired to Anthony Rizzo for the last out make me a bad Pirate fan? If it does, than, ok. But in addition to being a die-hard fan of my Buccos, I am also a die-hard fan of Major League Baseball. Anybody who knows me knows that I am a historical fanatic. I love reading about guys like Jimmie Foxx, Ducky Medwick, Dizzy Dean, Mel Ott, etc. Baseball is my #1 passion when it comes to sports. That's why the fact that I never lived in an age when Baseball was at the top of the American sports food chain bothers me.
It irks me that baseball has lost popularity. It bugs me how many people my age will not watch the game because it is "too slow". However, it also saddens me that the NFL and, at least in my age demographic, the NBA, are miles ahead of what should be America's Pastime in popularity. These things agitate me, and that's why, whoever ended up winning game seven, there was no reason for anybody outside of Chicago or Cleveland to be upset.
It's been nearly three days since the baby bears reversed the curse. Cub Haters everywhere should be, at least for the most part, settled down and ready to move forward. However, I believe that the 2016 World Series was an excellent example of the line between sport and team. I'm sure there are people out there who love the Pirates but don't care about Baseball aside from that one team. I don't agree with this. If one follows a sport in any form, they should recognize when something special happens that does not relate to their boys. In short, while it is perfectly OK not to be thrilled about Chicago's triumph, I feel that it should be recognized that this years playoffs, from David Ortiz's Farewell to 108 years of pain going down the train, was the most exciting month baseball has experienced in quite some time.
Even the phenomenal TV ratings don't tell the full story of how this year's Fall Classic captivated America. If you went on Twitter at any point of Game 7, you knew what the top story was. For a short while, I got a taste of a time when everything stood still during the fall classic.  Baseball's Mecca didn't just blend in with the crowded world of professional sports.
Is this a sign of things to come? Who knows? But I do know that this years World Series was awesome. Anybody who considers themselves a fan of our game should sit back, reflect, and realize that they were a part of something special. How could that be a bad thing?