Pittsburgh Pirates: Examining New Prospect Eddy Yean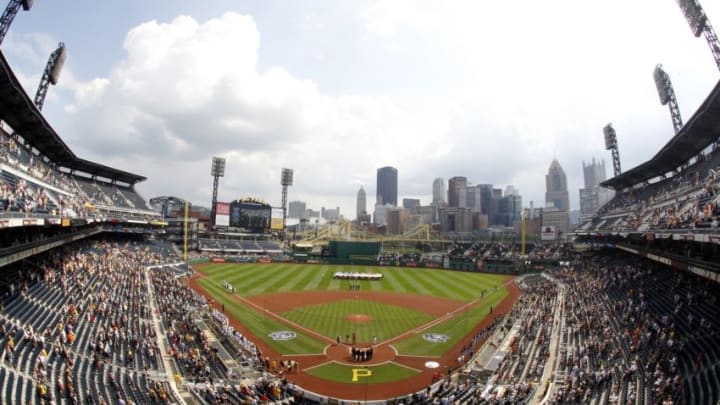 (Photo by Justin K. Aller/Getty Images) /
On Thursday, the Pittsburgh Pirates traded first baseman Josh Bell to the Washington Nationals. In return, the Bucs received a pair of right-handed pitching prospects, one of which is 19-year-old Eddy Yean.
Thursday afternoon, the Pittsburgh Pirates traded first baseman Josh Bell to the Washington Nationals for two pitching prospects. One was Will Crowe, a 26-year-old. However, the headliner of the deal looks to be right-hander Eddy Yean, but what does he bring to the table?
Yean was ranked as the Nationals' 7th best prospect per FanGraphs and 6th best per MLB Pipeline. Signed out of the Dominican Republic during the 2017 international signing period, Yean played his first year of professional ball in 2018 with the Nats' Dominican Summer League team.
In the DSL, Yean pitched 43.2 innings, but struggled to a 5.98 ERA, 4.19 FIP and 1.83 WHIP. Yean struck out just 15.5% of the batters he faced while posting a weak 11.1% walk rate, however, he allowed just one home run. Both his FIP and his xFIP (4.37) were much lower than his ERA.
Yean split 2019 between Rookie Ball and Low-A. Overall, he pitched well between the two stops. In total, he tossed 46.1 innings posting a 3.50 ERA, 3.44 FIP and 1.16 WHIP. Yean saw his strikeout and walk rates move in the right directions with a 22.6% of the batters he faced while walking just them at a rate of 8.9%. Yean remained strong in keeping the ball in the park with a HR/9 of 0.58. Yean also had a strong 3.26 xFIP at Low-A.
The 19-year-old right hander throws three pitches. His best pitch is his fastball, which both FanGraphs and MLB Pipeline see as a pitch with 60-grade potential. According to Pipeline, his fastball velocity took a step up in 2019. He averages out in the 91-94 MPH, but has been clocked at 97 MPH. His fastball also has a decent amount of spin, averaging 2300 RPM. Pipeline also describes the pitch to have late breaking life.
Yean's primary breaking ball is a slider. Like his fastball, both Pipeline and FanGraphs see this as an above average pitch with a 55-grade. This pitch he throws in the mid-80s, averaging 84-86 MPH. His third pitch is a change up. It's another pitch both FanGraphs and Pipeline think can be a plus pitch. MLB Pipeline states that National club officials saw good progress in his change. In terms of command and control, he grades out at around average. His command has a future 50 grade with his control having the same grade.
Yean is described to have a clean delivery. He is currently listed at 6'1″, 180 pounds by Pipeline. He has a projectable frame and added on some bulk from 2018 to 2019, which helped increase his velocity. 2
021 will be Yean's age-20 season, so he still has a few years to go before getting to the bigs. While FanGraphs has him with an ETA of 2022, without any minor league season last year, Yean's ETA is probably closer to the end of 2023. That would be his age-22 season. This adds Yean into the group of young pitching prospects that the Pittsburgh Pirates have that currently proejct to reach the Majors in 2022 or 2023.
Yean does not currently have any overpowering pitches. While he is still young and is already working in the 91-94 MPH range, he, overall, only has a future value grade of 40+ on FanGraphs. But he doesn't have any obvious weaknesses. Right now, he projects as a mid-rotation starter. He could be a durable right-hander for the Pittsburgh Pirates in a few seasons. Currently, Yean, Carmen Mlodzinski, and Santiago Florez are the Pirates' three starting pitching prospects with a future value grade on FanGraphs of 40+.